I have been really lucky to work with some awesome couples and Kate and Alex who had a destination wedding at The Essex on June 27th definitely continued that trend!  They planned their Vermont wedding while attending law school and medical school, respectively, and they could be found in D.C. or Montana…or somewhere in-between!…while they were planning their big day.  Their nature-inspired designs feature dahlias, lavender, thistle, poppy pods, snapdragons, roses, larkspur, lisianthus, scabiosa, ranunculus, sweet William and freesia.
The groom was involved in the planning details and he told us a few times how much he liked the flowers.  How cool is that?!  Boutonnieres include thistle & lavender (left), Corsages for the grandmothers also include lisianthus buds wrapped with raffia for a simple touch.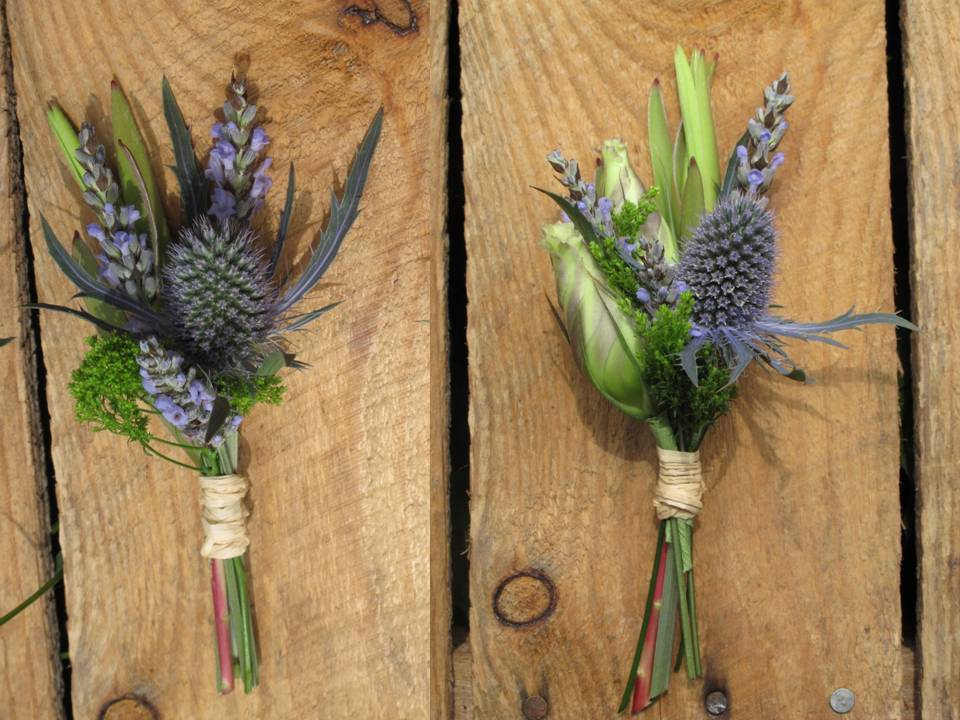 Bride's bouquet (right & top left) included orange dahlias, snapdragons, yellow freesia, purple stock, lisianthus, scabiosa, spray roses, lavender, poppy pods, ranunculus, sweet William & thistle.  Her 2 attendants bouquets (bottom left) also include yellow roses.
The bridesmaids wore black plum dresses & their bouquets were tied with a green silk ribbon.
In the hours before their traditional Jewish ceremony in the garden the clouds were ominous, but happily the rain held off!  The chuppah was draped with the bride's grandmother's lace tablecloth.  I love this detail!  Adding family pieces always make a chuppah more special.
A closer look at the chuppah decor, the sap buckets & mason jars that hung down the aisle.
As a wedding favor Kate and Alex donated 500 lbs. of food to the Vermont Foodbank.   Heartwarming, isn't it?  I think an altruistic gift is the best way to start off a marriage!
Mossy containers are sort of my 'signature' centerpiece–I love the gardeny flowers & thistle.  These designs include larkspur, snapdragons, roses, sweet William, lisianthus, poppy pods, freesia, leucodendron, spray roses & thistle with Japanese pussy willow from my garden.
I cannot wait to see their wedding photos!  We saw Daria and Andy Bishop hard at work! (Well, actually they said they were having a great time, but hard at work nonetheless!)  Kate was simply stunning in her beautiful dress and Alex was as dapper as a groom could be.  It was a pleasure working with you on your Vermont wedding.  Mazel tov!
Want to make a donation to the Vermont Foodbank?  Click here!