It was an unbelievably beautiful (like mid-50's and sunny kinda beautiful) November day for Annie and Andrew's wedding at Sleepy Hollow Inn in Huntington, Vermont.  Perhaps the weather took a cue from Annie's floral choices of irises for a spring-like minimalistic feeling–an unexpected palette for a "fall wedding".
The bride's color choices were rooted with her love of the color of blue irises and her bouquet included both blue and white irises, yellow spray roses, lisianthus, yellow callas, delphinium, freesia, green gladiolus and bupleurum with a green silk dupioni ribbon.
The bridesmaids (including the bride's sister who was one of my brides 2 years ago!) wore black and carried bouquets similar to the bride.  I love bridesmaids in black dresses.
The barn at Sleepy Hollow has huge windows and a great view!
It was mid-November, but the weather was warm and beautiful.  This is what Camel's Hump looked like from inside the barn at Sleep Hollow.  A great backdrop for an indoor ceremony!
The air was warm, but you could still find snow on the ground where it was shaded from the sun.  I snapped this shot of the bouquet just before bringing it to Annie.
The wooden chairs in the barn have a rustic and clean feeling.  Potted rosemary in little galvanized sap buckets lined the aisle and also served as centerpieces.
The bride and groom grew the rosemary themselves…a truly noble DIY effort!
Customized pint glasses designed by the groom were their favors.  I Love 'em!  They also made homemade peppermint bark.  Yum.
Here are a few more details from Andrew & Annie's big day.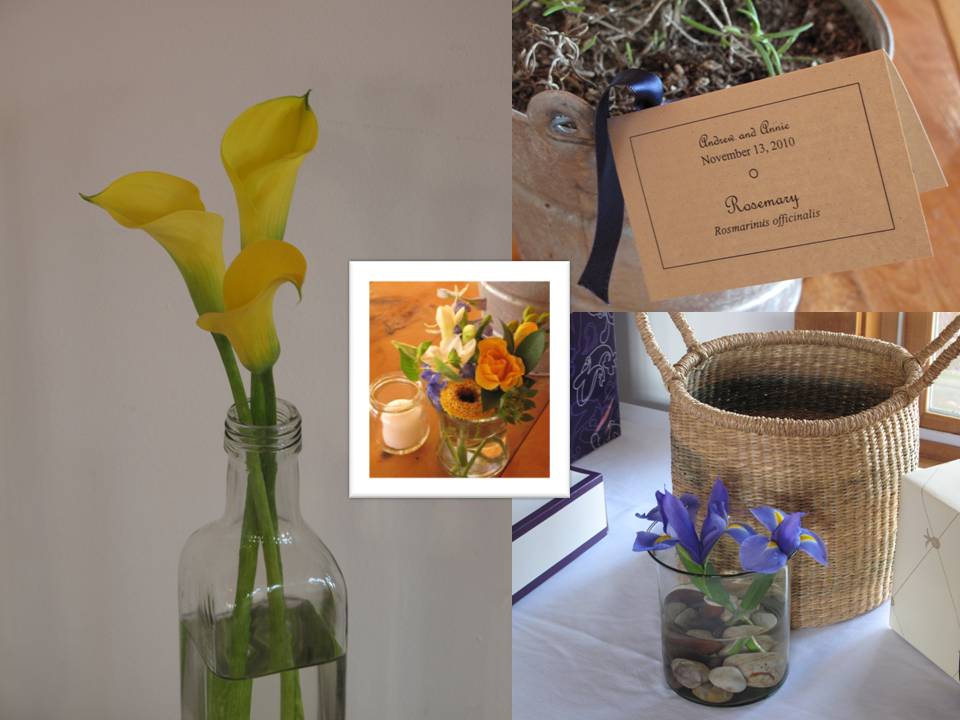 Susanna's Catering created a serious sushi display which we accented with submerged irises.
Congratulations to Annie and Andrew!  No one could have predicted what a perfect day you'd have for your wedding.  I hope it was all you dreamed it would be.  Your DIY details and minimalistic, yet elegant touches complimented the rustic setting perfectly.  It is always a special privilege to work with more than one sibling in a family and I am so glad we worked together on your big day!