I shared one of my favorite wonderful wife tips with you in this post with Jacques Pépin's Berry Crumble Recipe and since black raspberries are in season in my garden it's the perfect time to share it again!
I made a few improvisations on the original recipe (which you'll find below) by using only black raspberries from my garden, adding about 1/4 cup of chocolate chips and this time I used butter as Jacques suggests in his recipe, but I only used about 2 Tbl. instead of 5 Tbl.  (I mixed about 1 Tbl. of butter in with the granola and then put small pieces of butter on the top so it would melt into the top.)  Try this recipe and tell me what you think.  You can mix together the ingredients in about 15 minutes or less and I suggest you keep an eye on it when it's in the oven because you may find it cooks in less than 35 minutes.
I made this raspberry crumble this morning.  I'll reheat it a bit before serving tonight and add a scoop of vanilla ice cream.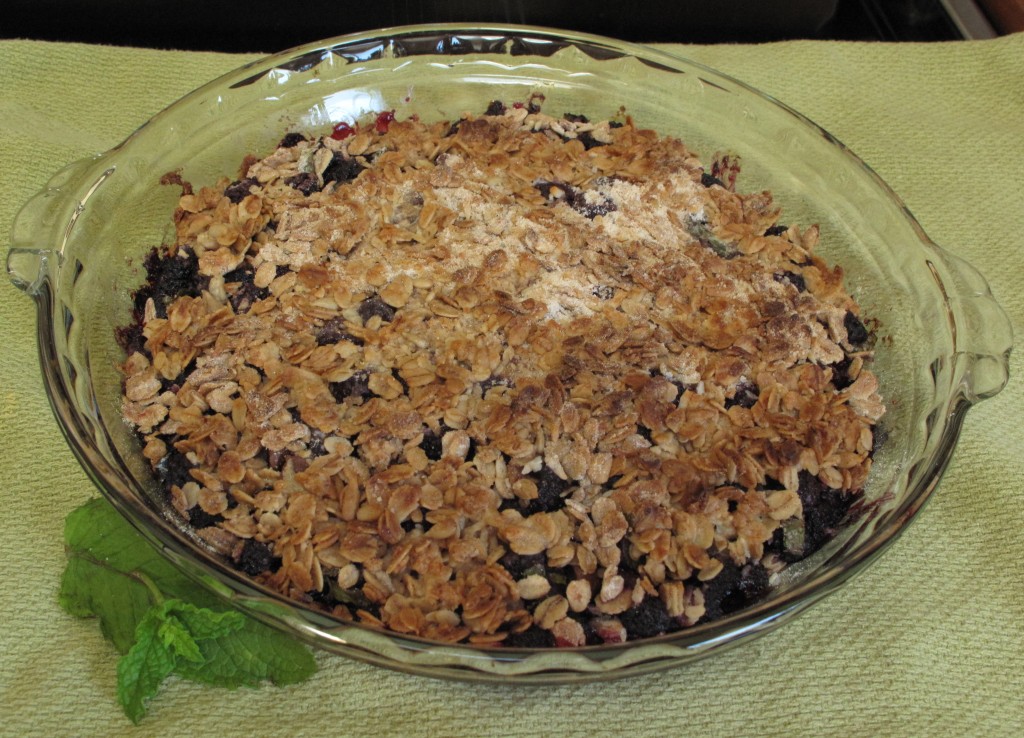 Here's my original post with the recipe:
Jacques Pépin is one of my kitchen heroes.  He rocks.  His Fast Food My Way series on PBS is inspired with a message that delicious food doesn't have to take a long time to make (my mantra!).  This is a recipe I tried a few weeks ago for the first time and it will definitely be a welcome addition to my repertoire.  As usual you will see I made a few subs, but that's what being a wonderful wife is all about–sometimes you've gotta use what you've got!
Rhubarb and berry crumble–This recipe couldn't be easier or more lovely.  The mint makes it pop.  With only 7 ingredients I think it's good enough to serve in a restaurant.  Really.
You will need:  3/4 pound rhubarb, cut into 2-inch pieces (about 3 cups–which I found was about 2 really long stalks), 3/4 pound strawberries, 1/2 cup sugar, 3 Tablespoons flour, about 24 fresh peppermint or spearmint leaves, 1 cup granola (he suggests pecan granola, but I used a granola with coconut and sesame seeds from a local bakery), about 5 Tablespoons unsalted butter at room temp. (I used unrefined coconut oil which happened to be a room temp. and worked deliciously!!) and finally 1 cup sour cream or creme fraiche for serving (I skipped it and it was perfect.)
A little side note:  I used cherries instead of strawberries because I didn't have any yet and I can imagine several tart fruits working well.  I am going to try it again with black raspberries that are bountiful in my garden right now…maybe with a little lemon in there…I'll let you know how it turns out!
Heat oven to 400 degrees.  Put the rhubarb and berries in a bowl with 1/4 cup of the sugar, 2 Tablespoons of the flour, and the mint leaves.  Mix well and transfer to a 6-cup-capacity gratin dish or glass baking dish.
Put the remaining 1/4 cup of sugar and 2 T. flour, the granola and the butter or coconut oil in a small bowl and combine with your fingers (the fun part!) until crumbly and well mixed.  Sprinkle over the fruit.
Bake for about 35 minutes, or until the fruit is bubbling and the topping is browned.  Serve with sour cream or creme fraiche if you choose.
My mother-in-law just happened to stumble into a book store one day when Jacques was doing a signing.  She picked up a cookbook, had it signed and after learning of my admiration she gifted it to me.  My mother-in-law's name is Sheri, but no doubt due to his French influence he wrote Cheri before correcting it.  He also drew some scallions around the inscription.  Did I mention he rocks?  You can check out a slideshow of some of Jacques artwork here.
Happy cooking!  I know you will enjoy this recipe.  If you try it, let me know how it turns out!