Valentine's Day is all about sweets for your sweet and my favorite sweet is definitely chocolate so while I may call this a "wonderful wife tip" it's a seriously great husband tip, too.  These homemade chocolate truffles are simple and delicious.  There is nothing better than the look you get when you tell someone you made truffles.  They make you sound pretty darn fancy and I think they are a perfect Valentine's Day gift.
I clipped this simple 5 Step truffle recipe out of Brides Magazine in 2007 and I've made them a few times.  They are oh-so-good and totally worth the modest amount of effort and patience required.  Brides Mag presented it as a DIY favor idea, but as Ricky Ricardo would say, "that's just so ridiculous!"  They state that the recipe makes about 50 small truffles, but I tend to get closer to 25-30 medium sized truffles and that's fine with me.  I would not recommend tackling a large quantity for your first try at homemade truffle making, but if you are daring and amazing, then perhaps you are not as easily intimidated as me.  I've seen truffle recipes that are far more complicated than this one!
Super useful tools for this DIY trick include:
A double boiler
Wax paper–You need this for sure ya'll
Perhaps a cute little box to present these babies in or a cute cake plate with a glass cloche
An understanding that chocolate burns easily
You'll need the following ingredients for the ganache:
8 oz. dark chocolate–use something good with no more than 70% cacao.  Don't be cheap here.
1/2 cup plus 2 Tablespoons of heavy cream, warmed
2 Tablespoons unsalted butter softened at room temperature
For the coating you'll need:
4 oz. dark chocolate (You may even want to go for 5 oz. or more so you have plenty to dip in!)
Toppings of your choice such as some chopped nuts, a dusting of crystalized sugar, cocoa powder or some sea salt  (Sea salt on chocolate could change your life if you've never done this before.)  I used lavender sugar and vanilla bean sugar from Savory Spice Shop in the chocolates pictured below.  They don't need a topping if you prefer to serve them plain.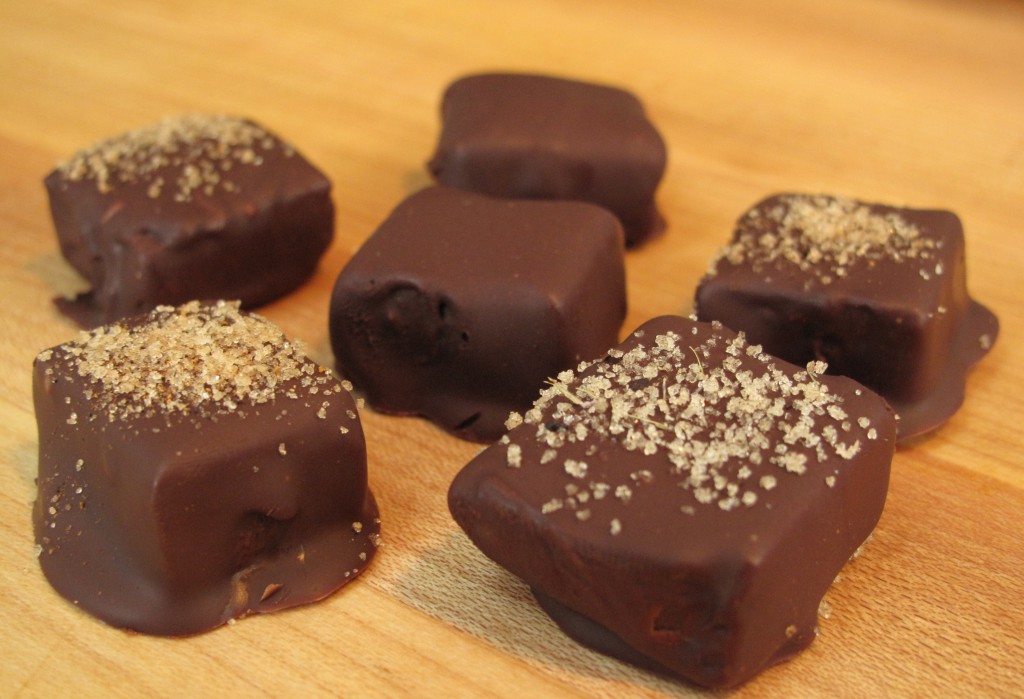 Step 1:  Melt 8 oz. of chocolate in a double boiler or a stainless steel bowl over barely simmering water.  I use a whisk for this.  If you're new to working with chocolate you should be warned that chocolate burns easily and it can happen quickly.  You can always re-melt or add more heat, but you cannot take the burnt taste out.
Step 2:  Remove the chocolate from the heat and slowly whisk in the cream which you have heated either in a pyrex measuring cup in the microwave or on the stove.  Do not scorch or boil the cream, though!  If the chocolate stiffens and separates, keep whisking and add more cream. Again, if you're new to chocolatier-ing what can happen is the chocolate almost starts to get little "shards" as it separates, but the best thing to do is keep stirring until the texture becomes a smooth ganache and holds the lines of the whisk.  Slowly whisk in the butter until incorporated.
Step 3:  Use a rubber spatula to transfer the ganache to a small square metal or glass pan lined with wax paper.  I use a small rectangular glass dish that measures 7 X 5 so anything around that size would be ideal.  Cover and refrigerate for at least two hours.  This will make square truffles and is the way I choose to do my truffle.
Step 4:  Dip a sharp knife into hot water and tap off excess water.  Slice the ganache into long 1/2″ strips and then cut into 1/2″ cubes.  Layer them between sheets of wax paper in an airtight container and chill again for 2 hours.
Step 5:  Melt the additional 4-5 oz. of chocolate as you did in Step 1.  You'll need to let it cool for 10-15 minutes and I pour that into a small glass bowl that I dip the truffles straight into.  Set up  a nice work area for yourself so you can dip each truffle into the melted chocolate, place it on a wax lined baking tray and immediately add a topping while the chocolate is still melty.
Set aside to harden and refrigerate for as much as 3 weeks…if they last that long!  Dipping tips: Use a spoon to scoop the truffles out of the pool of chocolate and if the chocolate for the coating starts to harden just place the glass bowl into the microwave for 20 seconds or so to re-melt it.
Present these to your Valentine (or make them for yourself!) and taste the love!