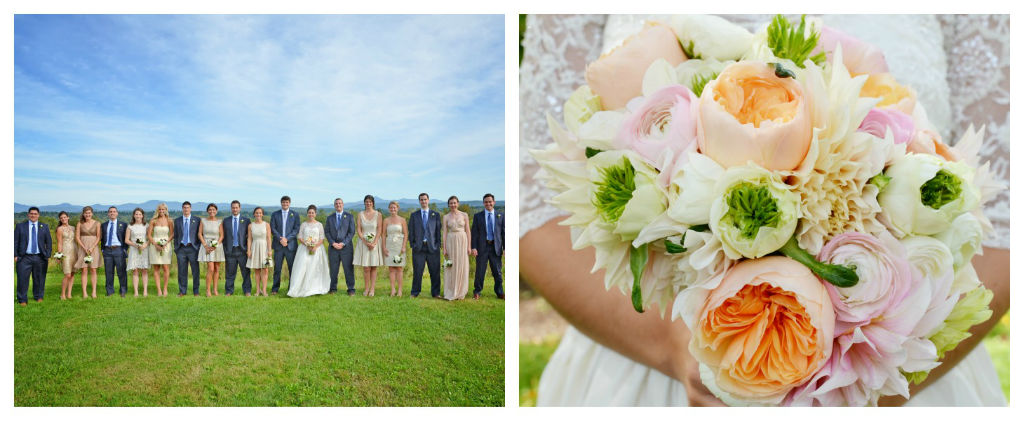 When it comes to hosting your wedding guests it feels great to gild the lily whenever possible.  Of course it's easier to gild if you've got a gold leaf budget, but here are seven simple ways:
1. Greet your guests with cocktails upon arrival at the ceremony site (if it's not religious, or at 10am that is!). If it's a mid-afternoon ceremony in the summer or you'd prefer not to serve alcohol you may want to serve lemonade and iced tea before the ceremony.
2. Have a slightly longer cocktail hour (an hour and a half will do) with ample food offerings.  Serve a signature cocktail or two and allow folks to mingle and enjoy being your guest. Don't forget to include some non-alcoholic beverages, too.
3. Place a flower or fresh herb at each table setting either in the napkin fold or on the edge of the plate.
4. Go for a live band. If dancing is something you love to do there is nothing like live music!
5. Serve a small slice of cake to each guest with a chocolate truffle and/or cream puff on one small plate with a piece of fruit as a 'dessert course'.
6. Offer coffee and hot cider to guests as they leave your reception along with chocolate-chip cookies or cider donuts for a final treat as they walk out the door!
7. Arrange for transportation back to the hotel/inn from the wedding for your guests. You can skip the limo for your wedding party and arrange for everyone to get a lift that may want one.