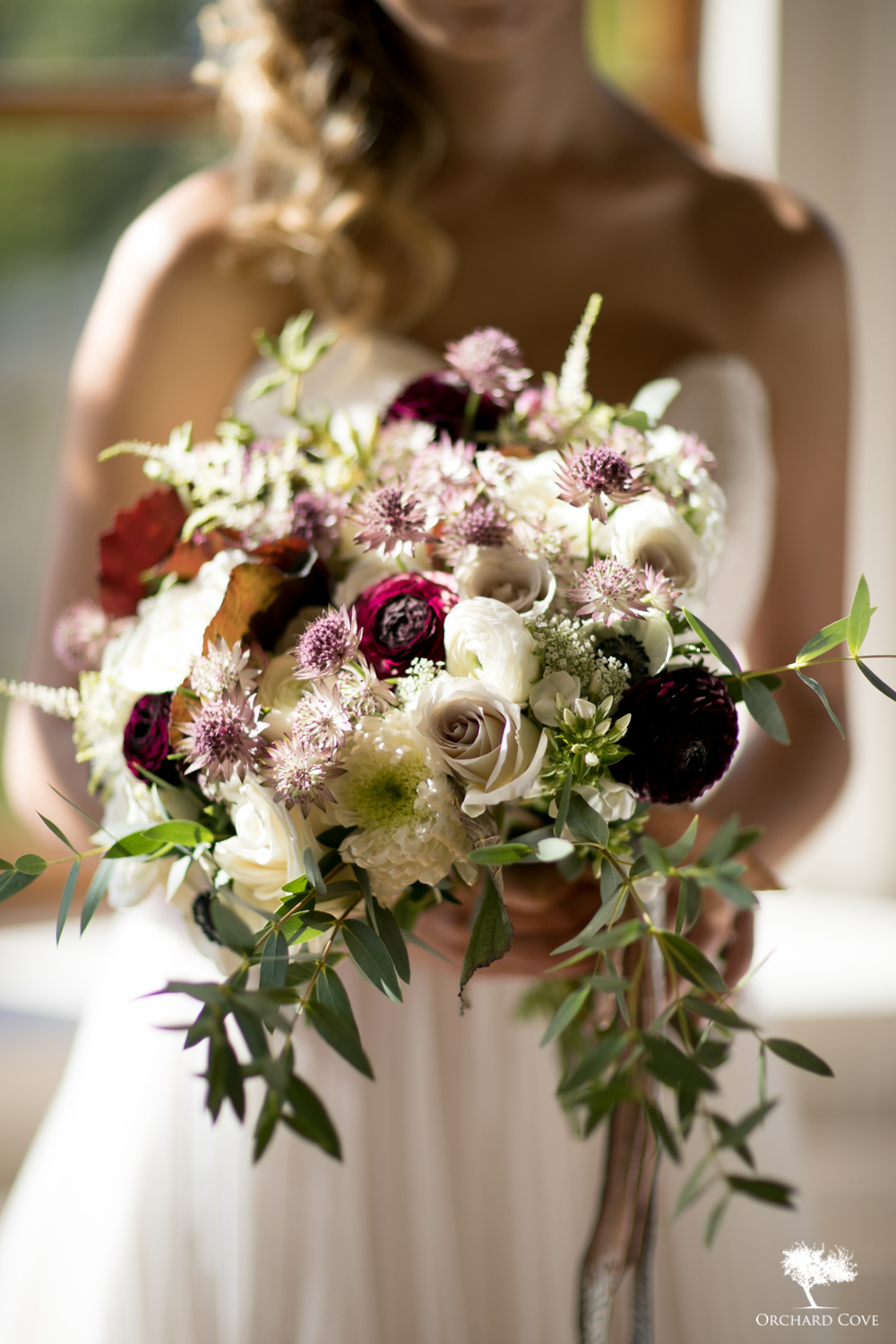 Selecting your wedding dress can be a really huge decision.  Some brides have been dreaming of their ideal dress for years, while others may have no clue where to start, what style they like or what will look best on their body type.  No matter what you spend or what the label inside the dress says, your wedding dress oftentimes defines your wedding style and can help determine what the overall feeling of your wedding day will be.
A bride may feel that she wants a casual wedding, but after she selects a formal gown and sees her groom in a tuxedo those casual ideas might need to step it up a bit.  As a florist when I see a bride's wedding dress it tell me a lot about her overall style and oftentimes helps direct my design recommendations–especially for her bouquet.  Elaborate dresses are complimented by less elaborate bouquets while simpler, slip dresses lend themselves to a variety of styles from classic, rounded bouquets to funky woodland-inspired blooms.
If you are just getting started on the dress hunt you should be armed with a few photos of dresses you like, a few (no more than 3!) trusted style advisers and you should have a desired budget in mind and you should do your very best to stick with it.  Style Me Pretty has a "Look Book" on their site where you can peruse gorgeous gowns and get a sense of some of the styles out there.  My personal guilty pleasure is Say Yes to the Dress…I never seem to tire of watching brides (and their families) search for the *perfect* dress.  When she tries on a wedding dress that actually brings tears to her eyes (or her parents' eyes!!) I am soooo happy to hear the bride say YES to her dress you'd think I was getting a commission on the sale.
Don't stress over your dress.  Try on as many as you need to find a style that looks great on your body.  Choose a wedding dress that feels like you.  Live happily ever after.  Simple!