Five years ago I worked with my friends on their Vermont wedding at Trapp Family Lodge in Stowe.  Jackie and Tim are wonderful friends and seeing them grow over the years (and their adorable baby girl, too!) has been a special part of our lives.  There is usually lots of wine, laughter and good food when we get together.
A traditional gift for the fifth wedding anniversary is wood which is meant to signify the strength of the relationship.  I think a nice piece of furniture or a wooden salad bowl is a good gift…or perhaps a new fence for your yard like my friends put up this summer!  I've also seen suggestions to plant a tree and toast to a future where your love continues to grow and prosper like that tree.  I really like that one!
Jackie and Tim's fall-inspired flowers featured Leonidas roses as well as deep red roses and hypericum berries for an "Autumn in Vermont" feeling, although the weather that day was more like a perfect end of summer day that happened to have some marvelous fall foliage.  Here is a picture of the bride's bouquet which featured 3 shades of callas & 3 shades of roses. 
In addition to flowers I also helped create welcome baskets, invitations and drew up some images for their save-the-date cards which we printed on recycled paper, of course!  Below are the images I drew for the front and back-side of the cards with a couple of characters I made with the words "Jackie and Tim" and an apple tree as a nod to the season with their initials in the tree.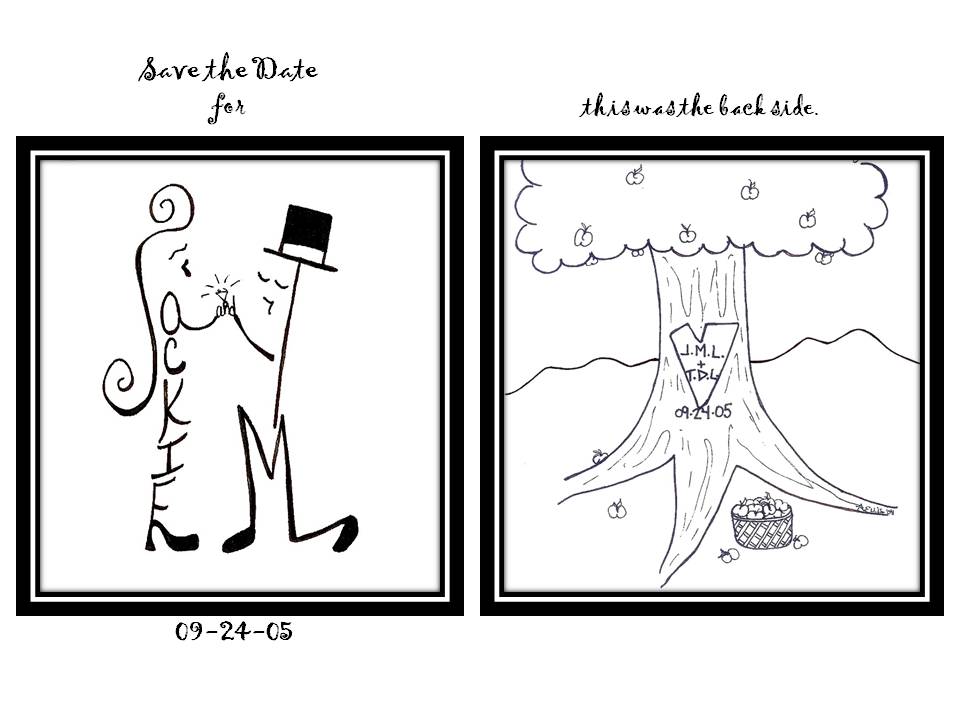 It is a privilege to work with couples on their wedding plans, but working with dear friends is a particularly special honor.  Happy Anniversary, Jackie and Tim!  May the next five years be even more blissful than the first five!  Cheers to you both…and to our next dinner date together.