I remember what it was like to plan my own wedding over 17 years ago. I obsessed over the details (and this was before Pinterest where the number of details and ideas are endless!). To tell you the truth, I'm not sure how I would have handled the complications that a global pandemic brings to the table in the wedding planning process, but I feel a deep empathy for the sense of loss or uncertainty that many couples and families feel right now.
While "giving up a dream wedding" may seem like a small sacrifice to some, we all know what it feels like to have your heart set on something and then, well, things change.
Now, with Covid-19 cases on the rise in the United States and the continued mandates and safety measures to help reduce the risk of exposure, it's natural that many couples and wedding professionals alike are wondering what to expect for our upcoming 2021 events.
We have been looking forward to most of these weddings and events since 2019–we are all eager to see them through these long awaited celebrations of happy clients and guests.
It's essential that we focus on health and safety as we move forward through the upcoming year with grace and integrity. AND it's essential to keep in mind that your love and your union should be honored–no matter what. It may mean a slightly smaller wedding than you planned, but a "smaller wedding" can still be fabulous.
In fact, smaller weddings can be absolutely perfect.
Here Are 3 Things to Know About Planning Your 2021 Wedding:
#1. We're still in the midst of a pandemic and that means things are unpredictable and ever-changing.
While we ALL want to be optimistic that "things will look different soon", it's wise to plan to follow similar guidelines to our 2020 Wedding & Event Safety Standards which include:
All employees, vendors, clients and guests should plan to wear a mask while in the presence of others. This means during the ceremony and reception–including on the dance floor.
Outdoor events are still safest. (Note: your rain plan should also comply with indoor venue requirements. For example, if you're permitted to have 150 guests outdoors, but need to move indoors due to inclement weather where the maximum capacity of the venue is 75, you will not be able to bring all of your guests inside.)
Adjust your guest list to include your "big list" and your "smaller list". In 2020, the occupancy limit was 75 people indoors and I'd personally plan for 75 guests in 2021. Limiting the number of guests to allow for proper social distancing during the ceremony and reception can help set your guests at ease.
Follow all Vermont mandates including cross-state travel requirements and guidelines on vaccination, testing and quarantine. If you and your guests will be traveling, there will presumably be precautions to take, so plan accordingly.
Note: Science and safety should be at the forefront of event protocols. While rules and mandates are in place as precautions, sometimes it may be wise to go above and beyond the required rules. Click here for "Celebrate Safe" Wedding Tips & Videos.
#2. Communication is key! Guests cannot comply with safety guidelines if they don't know what they are! It's your job as a host to inform them so guests can choose to comply or opt-out.
Hosting an event requires an acknowledgement & acceptance of responsibility.
You also should accept responsibility to see to it that your attendees/guests will assume their respective responsibility for the health and safety of others in attendance including vendors and their respective staff. Those responsibilities will include, but will not be limited to adhering to venue capacity limits and cross-state travel requirements set forth by the Governor's Be Smart, Stay Safe Order, maintaining social distancing requirements, proper use of face coverings, proper ventilation for indoor spaces, and overall health and hygiene at the event.
Make a safety card part of your invitation suite to keep people informed like this sample by Christa Alexandra Designs.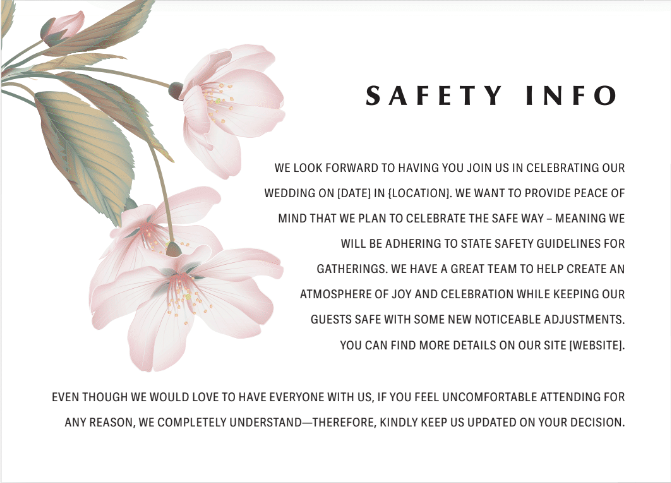 Note: It may seem "impossible" to control your guests behavior, but when hosts set the tone for safety measures, guests often follow your lead. Safe events begin with you!
Be advised that exposure to COVID-19 is an inherent risk in any public location where people are present; there is no guarantee you or your guests will not be exposed during an event. People who show no symptoms can spread Coronavirus and it's understood that any interaction in a public setting poses an elevated risk of being exposed to Coronavirus.
#3. Work with vendors you trust to ensure a successful experience for all!
What does a successful event look like? Well, to me, a successful wedding means that your guests feel hosted and cared for.
As a vendor I care about the healthy, safety and comfort of my clients and their guests, as well as my fellow Vermont wedding vendors.
I pledge to follow all safety guidelines as set forth by the State of Vermont and also to go above and beyond these requirements if necessary to protect myself, my employees or our local community members.
Note: If wedding and event vendors deem a situation as an unsafe situation for them and their staff (such as guests or other service providers not respecting social distancing and face covering requirements, and other health and safety guidelines) they may have to suspend services indefinitely if contractual responsibilities for health and safety are not being met.
After 18 summers of flowering hundreds of Vermont weddings, I really missed weddings during our Covid pause–though I did have the honor of designing the flowers for 4 lovely small weddings in 2020. (You saw a little sampling from each event in this post!)
Whether you're dreaming of an extravagant celebration or an intimate gathering of your nearest and dearest, I know we are all eager to gather safely together. And with proper health and safety measures, we will gather safely again.
Stay well, be kind, and keep moving forward.
xo. -Alison
Additional Covid-19 Wedding Planning Resources:
Click here for "Celebrate Safe" Wedding Tips & Videos