Wedding magazines often refer to "brides who have been dreaming of their wedding day since they were a little girl", but what about the brides (and grooms!) who have not spent 20+ years planning their wedding?  How are they going to pull together a wedding in 12 months or less when everyone else has had so much more time to think about it?
If you're engaged for more than 3 months and can't articulate your color palette and precisely which flowers will appear in your bouquet it's quite possible your friends may give you the stink eye.
In a world of endless wedding inspiration, DIY detail projects and picture perfect feature weddings–each with its own new, exciting & unique ideas–it can be a rough road for the uninspired.  When your other half asks you what you think about a specific color palette or china pattern and you don't have a "good" opinion you may start to feel a little disconnected from the process, but fear not…there's still hope.
If you've booked your venue, but have no idea where to start when it comes to your personal style I think you should try to identify an overall style that defines your taste as a couple.  Are you casual? trendy? preppy? modern?  Do you prefer a classic, simple style or something with an eclectic, organic feel?  Do you like vintage, garden flowers or sleek, modern blooms? Thinking about the way you want your wedding day to feel can help get you on track.
On the other hand…
If you're on the other end of the spectrum (ie. inspiration overload!) and you can't make a decision I suggest the first thing you do is stop looking at new ideas.  At some point, if you have too many ideas and you're having a hard time deciding, you have to stop searching for the next big idea and start sorting through the colors, patterns and styles you already know you like.  Consult your partner to make sure you are on the same page here!  Then, pick your top 5 looks, narrow it down to your top 2, then choose the best elements that suit you as a couple.
Part of my job as a floral designer is to identify areas where we can create a cohesive design from your inspiration photos and personal style.  I aim to help my clients use the best elements on their wish-list so that a couple gets to see as many of the details they love on their wedding day as possible.
If you can't pick a palette, a photographer or a parson you might need a professional opinion.  If you are uninspired to the point that you don't have anything on your love-this-list then it may be time to hire a floral/event designer who can help you discover what your wedding style truly is.
Whether you are feeling uninspired or have become overwhelmed by the endless options out there you have to trust your instincts, choose colors you like, listen to the advice of trusted professionals and try not to belabor decisions.
If it feels right, then go for it.  If it doesn't feel right, then wait.  Just don't drag things out and get overwhelmed.
I've got some color inspiration for you here…
Classic whites work in any season and just about any style.
Here's an autumnal inspiration board.
A yellow palette can be casual and springy or bright and bold.
Soft pinks make a sweet statement in any season.
And no post would be complete without a honeysuckle palette!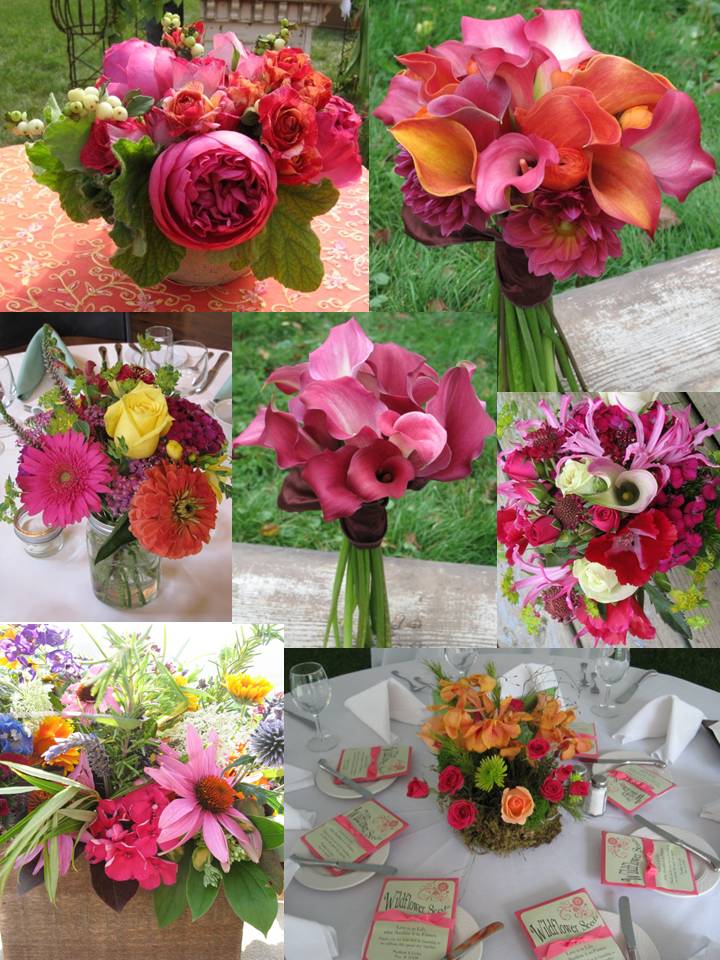 What's your color palette or main form of inspiration for your wedding?