When I first speak to a couple or their family about their wedding plans, it's not unusual to have a few things that are still "up in the air", and color palette is oftentimes one of those details that's still to be determined.
Yes, we may have a general idea of the colors we think we'll be working with, but in my experience, it's not until the wedding attire has been selected that the overall vibe or mood for the wedding is truly decided upon– that's when the color palette finally comes together.
How do you pick your palette?
I like to suggest you start with colors you feel good around! What colors make you happy? Start there.
A palette that's come up a few times lately is the beautiful combination of whites and oranges–it can be a bright and springy feeling like tulips or you can bring this palette straight into September with dahlias. Oranges, whites and peaches can make a perfect muted autumnal feeling that accentuates the fall foliage in Vermont, but doesn't blend or compete with it.
Oranges and whites go beautifully with a touch of yellow or blue or burgundy, too. It's easy to accessorize and a quick search for "white and orange flowers" on Pinterest can offer an array of design styles and color combinations.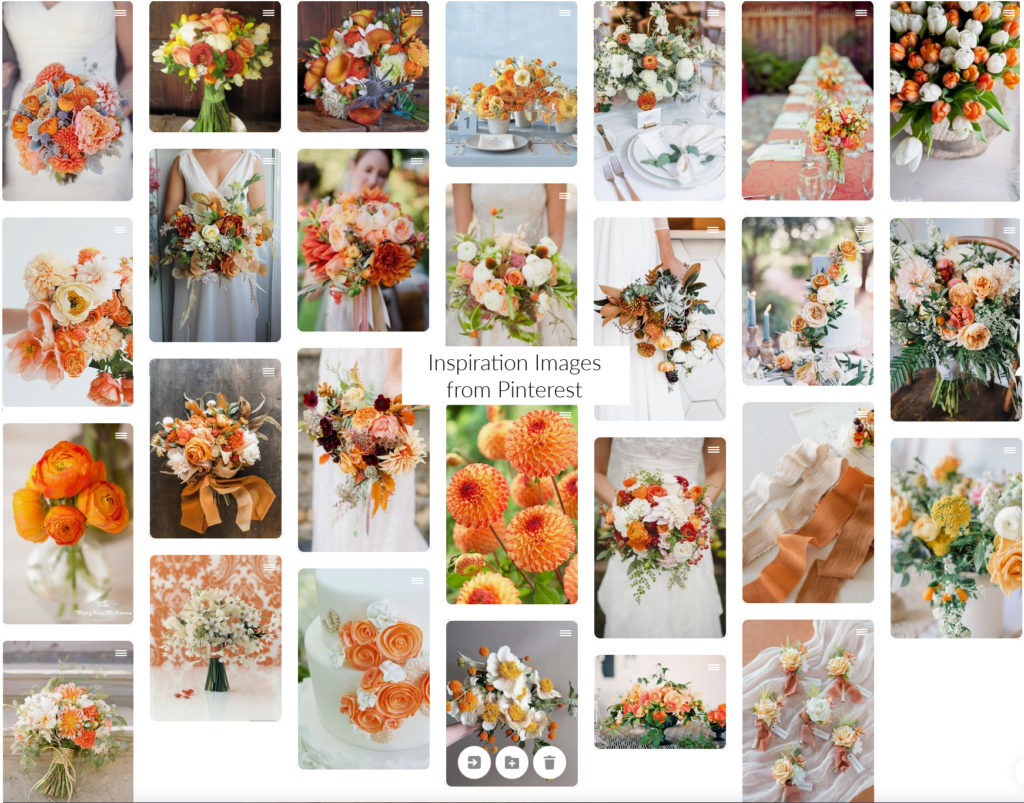 ---
After an initial phone call with a client I get a sense of the scope, feeling and style you're envisioning. Whether you already have an inspiration board or you're still open to new ideas, we'll often start with a few inspiration images from Pinterest (like the screenshot above) to use as a jumping off point.
I always have questions about the images you like best.
Which color combos do you like best?
What shapes and textures do you prefer?
Do you like the silvery greens?
Prefer more whites and less orange? More oranges with just a touch of white?
Which arrangements don't appeal to you at all?
Which pics are your favorites? What do you like about the photos you chose specifically?
Of course, the goal is not to recreate a picture.
Each event is designed specifically with you in mind! We're not imitating. We're drawing inspiration and then, creating something new, just for you!
All ideas start somewhere and the styles, shapes and color combinations that you are most drawn towards can help me select the flowers that will work best for your celebration, not just because they "look like the picture", but because they represent your style.
It's a challenge to put the different pieces of the wedding puzzle together, but your color palette and flowers create the ambiance for your ceremony and reception.
Flowers are the fun part! Are you ready to start planning? I'd love to hear more about your wedding day.
Tell Me About Your Vermont Wedding!