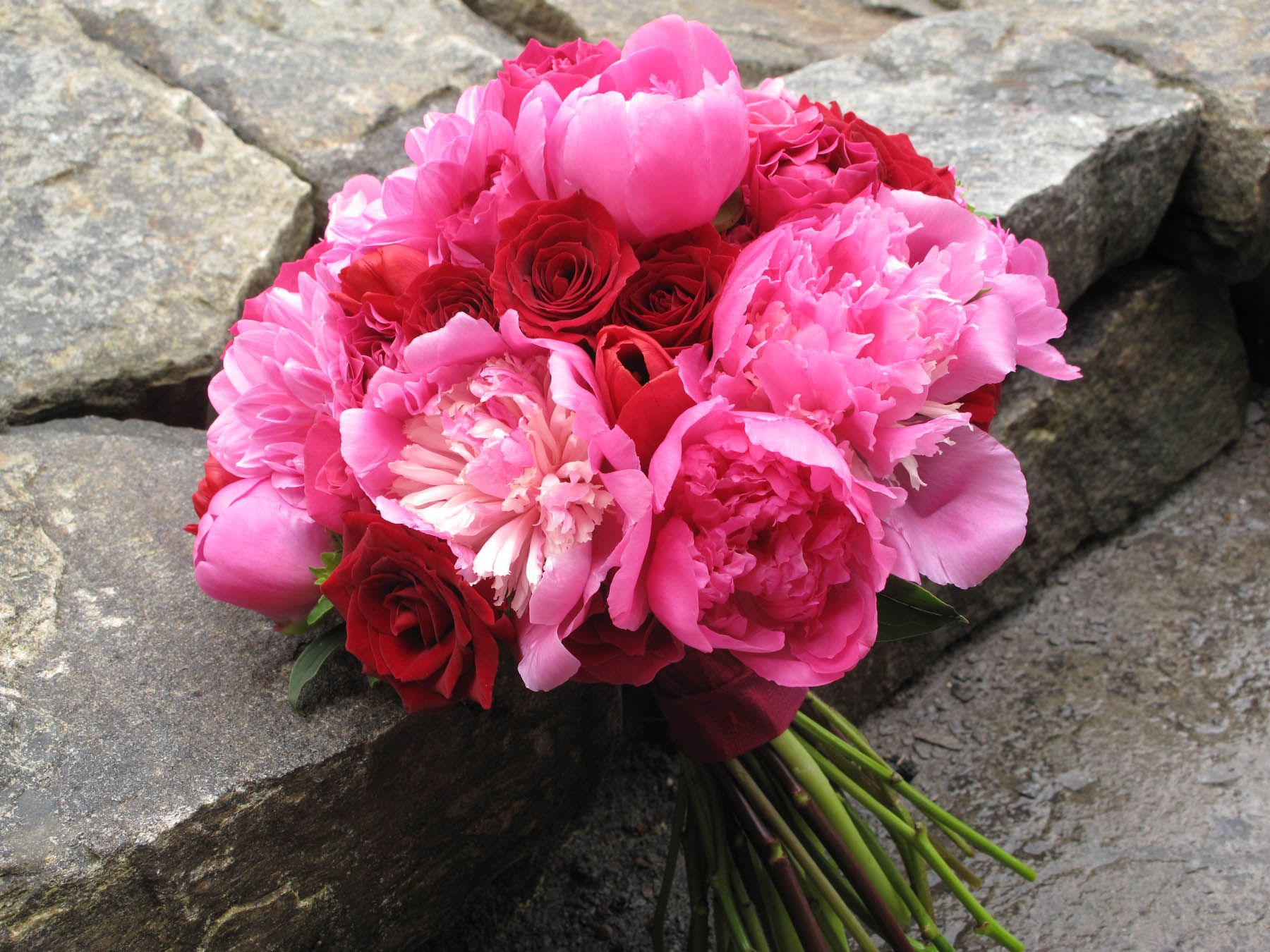 Valentine's Day is 2 weeks away and it's the perfect time to order flowers.  If you've never ordered flowers before or are not sure what it is exactly that you "should" order I've got a few tips for ordering Valentine's Day flowers.
Before you call:  Make sure you have the name, delivery address (we're talking a physical address–not a PO Box), and a phone number in case the florist wants to call ahead to arrange a delivery time.  Also, think about what you'd like the card to say.  Note:  if you sign the card "from your secret admirer" there is a chance the recipient will call the florist to find out who sent them.  D'oh!  Sorry, but it's true!
Delivery or pick-up:  If you want to woo her at work, then by all means send the flowers there, but if she wants to bring them home she'll have to transport them herself.  You could send them a few days before the holiday if you want an early kick off or pick out something fresh from your florist's cooler and deliver in person.  (Then, you'll get that big smile the delivery guy usually sees!)
Skip the fluff:  When I send flowers to family and friends I usually request that the florist not use carnations, baby's breath or leather leaf (the "typical" florist's greenery that you've no doubt seen before).  Most of the time when a florist hears, "not too many fillers" and "skip the cheap greens" she/he gets the picture that you are looking for something less traditional and not so…well, floristy.
What's a good alternative filler?  Ask if they have waxflower, heather or limonium.  You can also go without a filler and add textured greenery for a more modern, fresh look.  And, hey, if you're a baby's breath fan then go for it.
Price tips:  You should have an idea of what you would like to spend.  Keep in mind that tax and delivery fees will be added to the cost of the arrangement and minimum orders often apply.  If you are thinking of spending $50 on your order it would be best spent on a centerpiece sized arrangement or a vase arrangement that is mono-botanical (all one type of flower) or includes not too many different floral varieties.  For example, a vase of fresh tulips or hydrangea with roses.
If you have a budget around $75-100+ then you can probably have your choice of something either tall and showy (such as roses in a glass vase) or a centerpiece-sized design that is a bit fuller and includes a few higher end blooms such as orchids, roses or callas.  In larger cities you may find arrangements with an average cost closer to $150+.
Special Orders:  Order 1-2 weeks prior to your requested delivery date if there is anything particular you'd like delivered—such as your favorite raspberry pink roses, purple tulips or higher end blooms such as orchids or other tropical flowers.
Bloom for your buck:  Florists often get criticism about flowers being expensive around the holiday, but the wholesale price is increased for weeks before and after the holiday which makes a price increase inevitable.  There are also increased labor costs for the florist due to the high volume of orders; they have additional delivery drivers & van rentals, additional staff to answer phones and designers working overtime.
If you want to get the most bloom for your buck on Valentine's Day then skip the roses (especially the red ones) and opt for tulips or request something fresh of the designer's choice–minus the baby's breath and leather leaf, of course.
You should be able to get one of the following for Valentine's Day from your local flower shop either for pick-up or delivery:
–A tall vase of 1 dozen (or 1/2 dozen) red or white roses with eucalyptus in a clear glass vase.  Tip:  Find out what colors they will have available and opt for lavender, pink or yellow instead of red.
–Red or hot pink tulips (or a mix of both!) in a 5″ or 6″ vase.
–A centerpiece of hydrangea and roses for a desktop-sized design.
Finding a florist: If you don't have a local florist that you normally work with ask your co-workers or friends who they like to use or Google flower shops in the area to find a list.  Check out their websites, their location in comparison to where you want the flowers delivered and the average price for delivery to make sure they jive with what you have in mind.
I don't suggest you send via Proflowers, Teleflora, FTD or 1-800-Flowers because they are not flower shop-friendly in my opinion and their arrangements are more cookie-cutter.  The wire services take a chunk of money away from your order for themselves and I like to see my money spent on the product, not the privilege of using their service.
Make the day of your Valentine—send flowers!  (But PLEASE don't call me because I don't do Valentine's Day!)
This arrangement includes red roses, white dendrobium orchids, seeded eucalyptus and curly willow branches with apples in a moss-covered container for a Vermonty feel.