Selecting your color palette is a personal decision and clearly sets the tone of the entire wedding day.
Whether you like a classic look or consider your style preppy or offbeat or seasonal there is a color combo that will reflect the feel of your day.
Here are 5 color combos to consider:
White/Ivory & Greens–A classic palette that works no matter what the season and will never go out of style.  It can be modern or vintage, high-end or casual and when it comes to flowers you can put the emphasis on the green or the white depending on your personal taste.  Yellow or peach accents can add a twist while keeping the look clean.  Flowers suggestions:  roses, callas, peonies, lisianthus, tulips.
Eggplant & Olive–Mix deep tones for a lush, rich palette that makes a bold statement.  Choose olive green linens with centerpieces of various purple/eggplant blooms and incorporate artichokes, figs or grapes for a natural eggplant tone.  Add candlelight and white blooms to complement this combo.  Flower suggestions:  dahlias, callas, scabiosa, hydrangea, kale.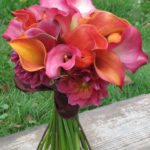 Orange & Pinks–Truly a fun and interesting composition that can focus on raspberry pinks and deep orange tones or paler pink accents with orange, white and yellow.  Imagine raspberry pink or tangerine dresses or linens for a unique summery look that can transcend any season.  Consider using fresh raspberries and orange slices to decorate your cake.  Flower suggestions:  dahlias, callas, ranunculus, roses, lilies.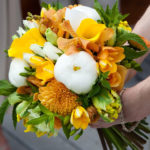 Navy & Yellow–A sophisticated palette that can also be fun.  Partner these colors for a bright, clean look with a preppy feel.  Picture dark navy attendants' dresses and bright yellow bouquets with hints of white & green.   Flower suggestions:  freesia, ranunculus, roses, orchids, snapdragons.
Pink & White–Almost needs no introduction as it is such a classic union, however the spectrum of pinks can make this look sweet or saucy.  Select pale pink blooms with white hydrangea for a more subdued, traditional wedding look or add punches of fuchsia for a more dramatic contrast.  Flower suggestions:  sweet pea, tulips, dianthus, bouvardia, nerine lilies.
Whether you lean toward the traditional or tend to make a statement your palette should be something that not only appeals to your personal taste, but also works with your venue and season.
Lighter colored blooms can help brighten a darker space, while deeper tones can bring the focus to the tabletops in a large space.  Work with what you have and have a beautiful wedding!