Floral Artistry is celebrating 20 years in business!
Even after 20 years, hundreds of weddings–and hundreds of thousands of stems of flowers– it's still a big deal to be chosen to be on the wedding team. Every wedding is a special occasion and it's an honor to be included in the planning and overall vision.
I'm so thankful for all the clients over the last 20 years who appreciate the important role that flowers actually play in transforming a space and have trusted me to create flowers for their events. They've allowed me to "edit" their ideas and explore new color palettes. They have trusted me to incorporate their precious family heirlooms and prayer shawls into chuppahs. And they've shared beautiful notes of thanks for the work.
A 20th Anniversary feels like it deserves acknowledgment, so I put together 20 of my favorite images in honor of this 20 years. In no particular order, you'll find some photos I'm sentimental about, as well as work that I feel really represent my current design style, along with some of my favorite color palettes. Photos are taken by me, unless otherwise noted.
---
20 Wedding Flower Photos for 20 Years
To start, I adore this fall wedding bouquet shot on the porch at The Grand Isle Lake House. The red chair as the backdrop for the fall palette just makes it a classic for me.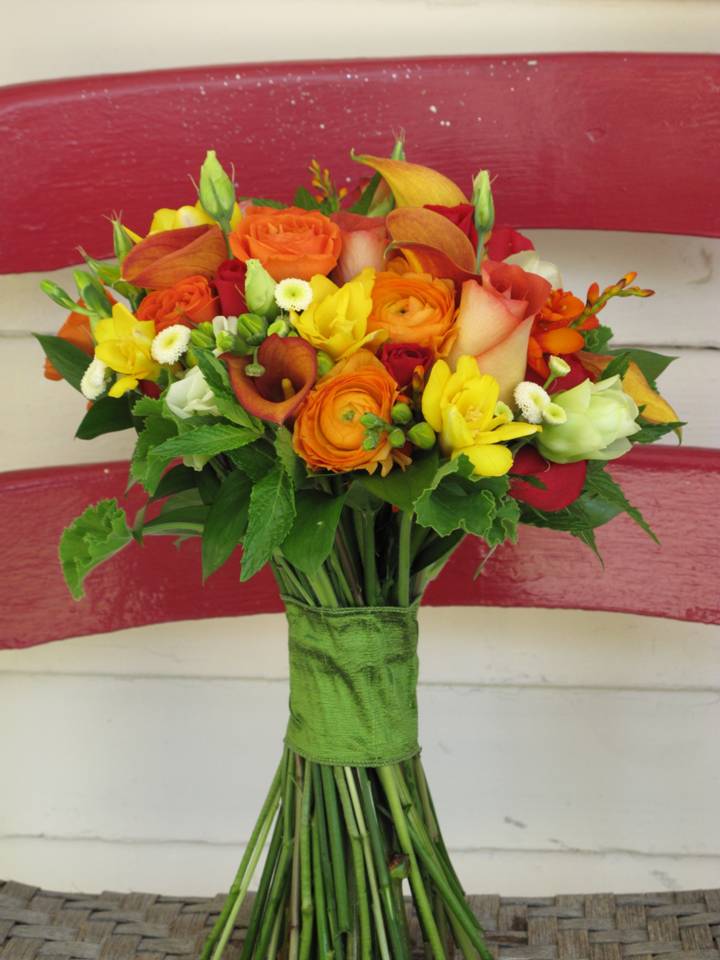 This white lilac and orchid bouquet with a touch of blue thistle became a favorite on Pinterest–at one point it had over 80,000 pins.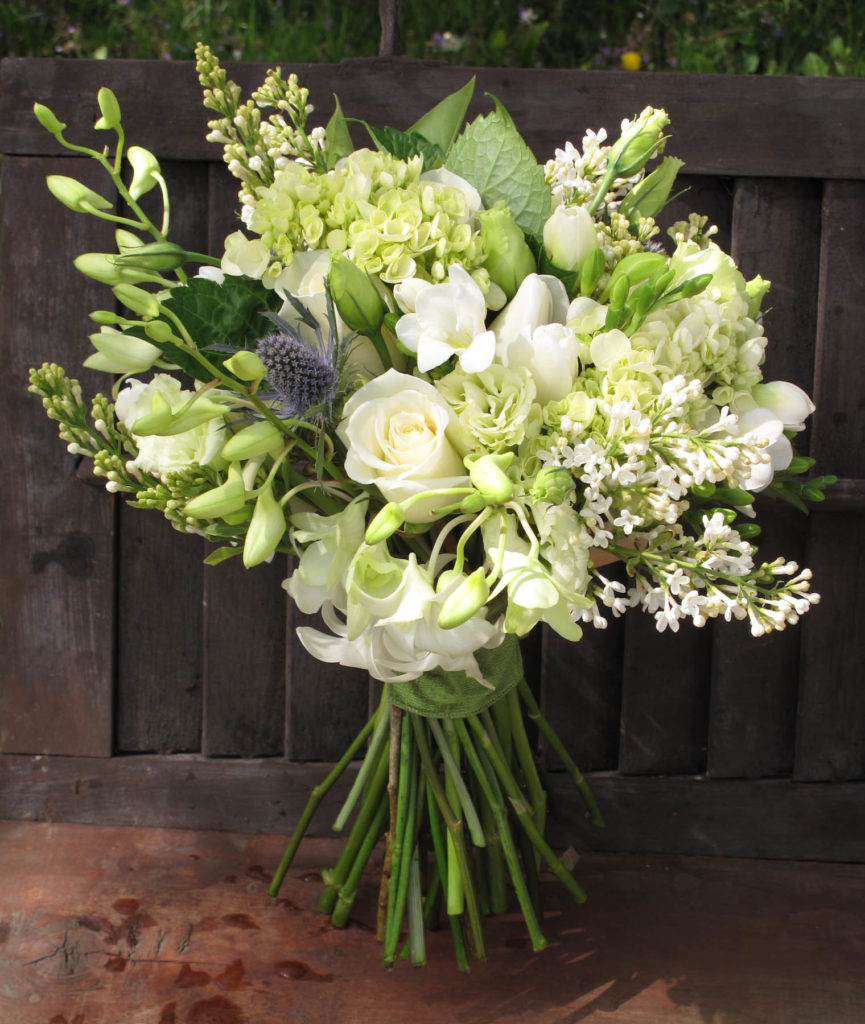 This fall bouquet at The Round Barn–complete with cows in the background–shot by Michael Tallman, has got to be on my favorites list and was recently featured by The Chapel Designers.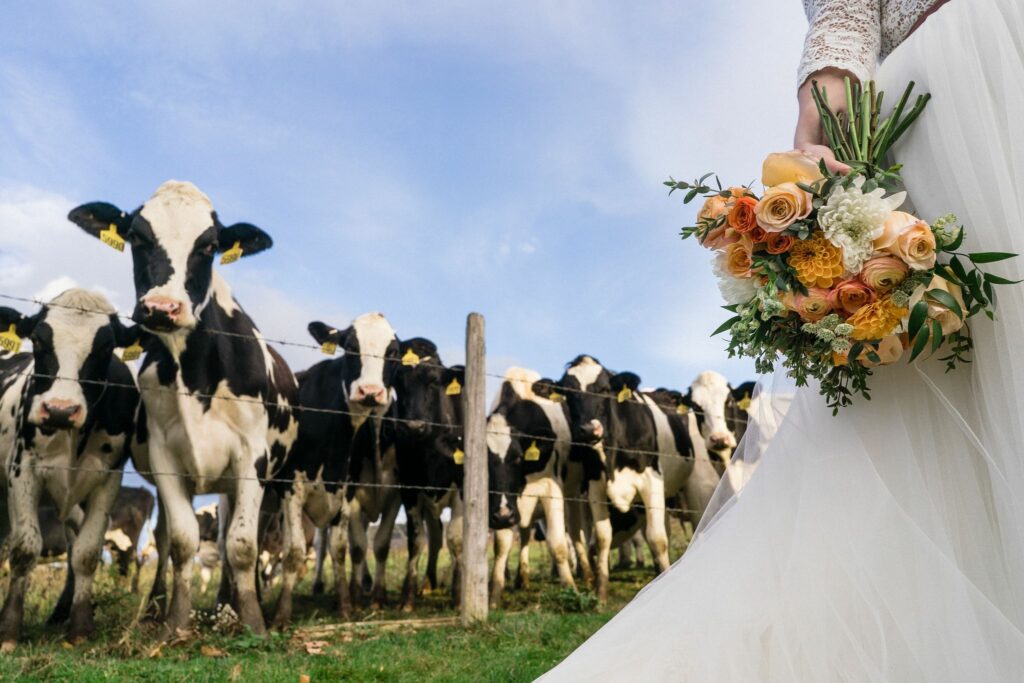 I love the next photo so much that it's actually the cover image for my book, Falling Into Flowers, published in 2020 by Wildflower Media. Shot by Magnolia Photographie.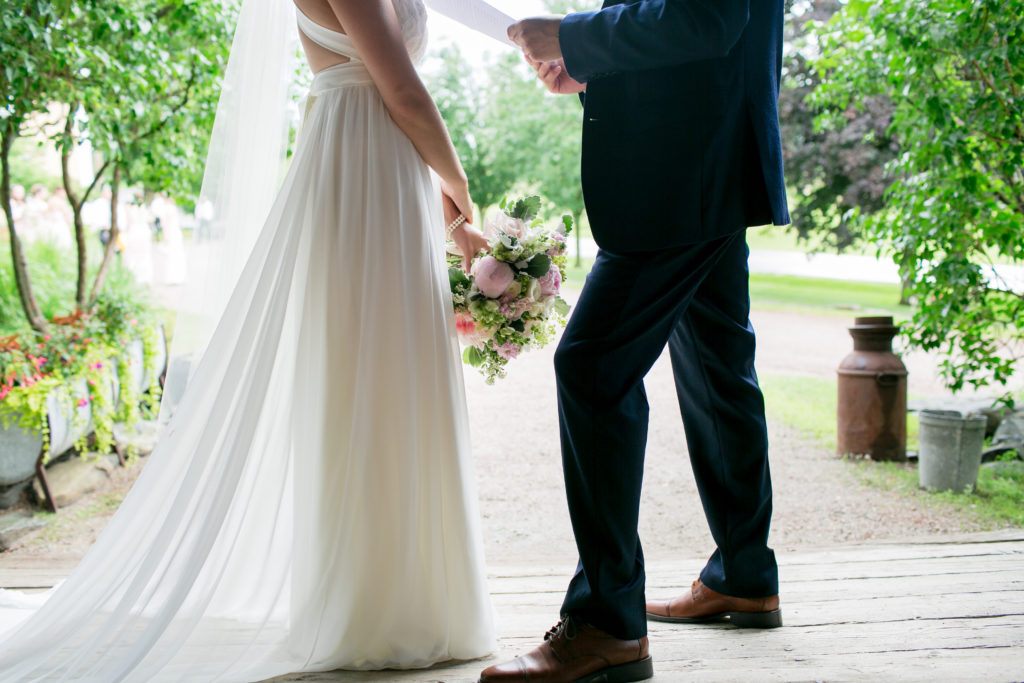 Fluffy pink and white June peonies with roses and callas for a wedding at The Coach Barn shot by Barrie Fisher. This is another image that I love so much it's included in my book!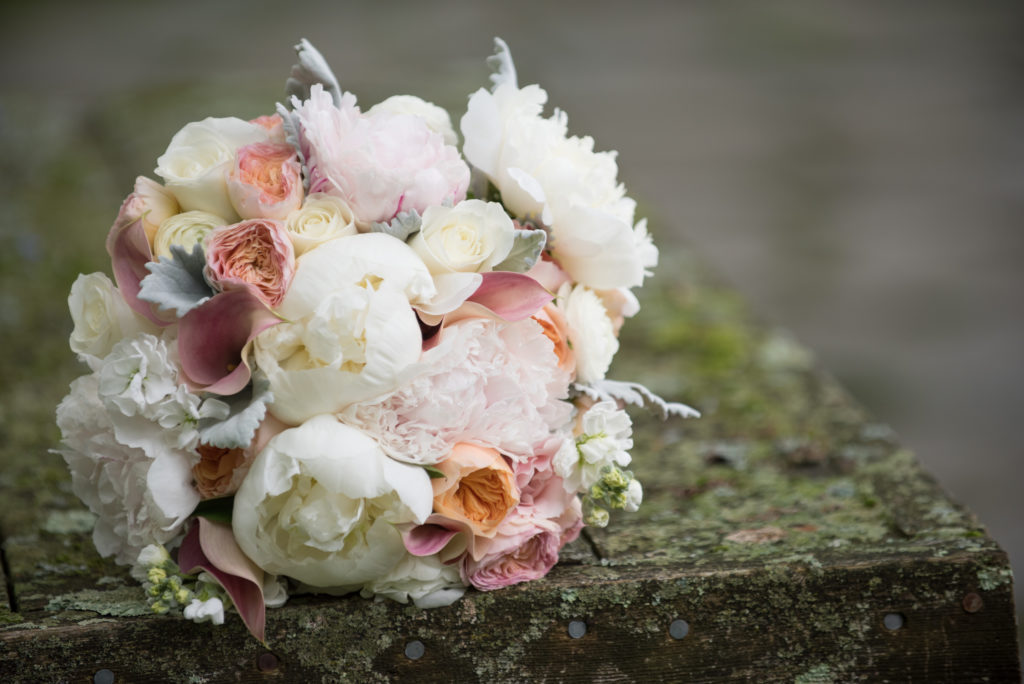 This birch arbor for a wedding at The Round Barn in Waitsfield has a romantic, gardeny feeling to bring the summertime blooms inside.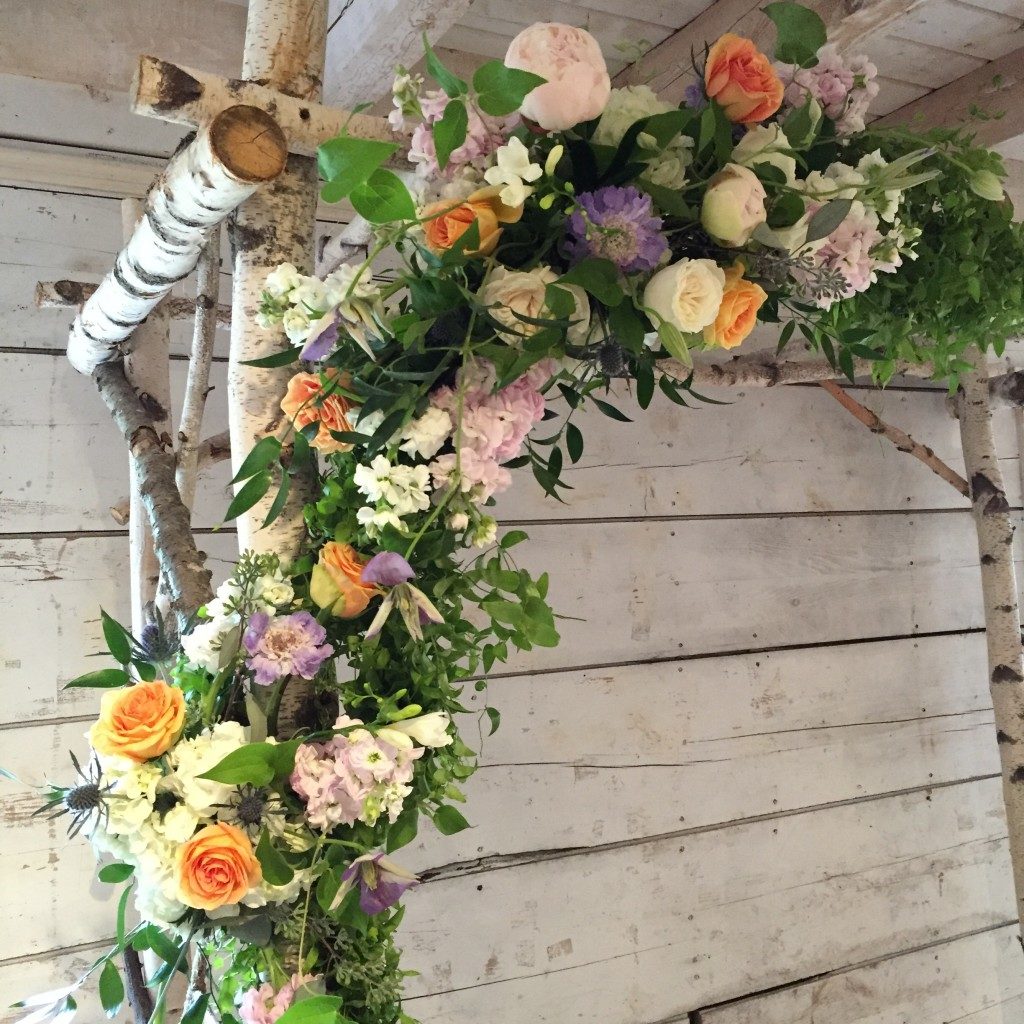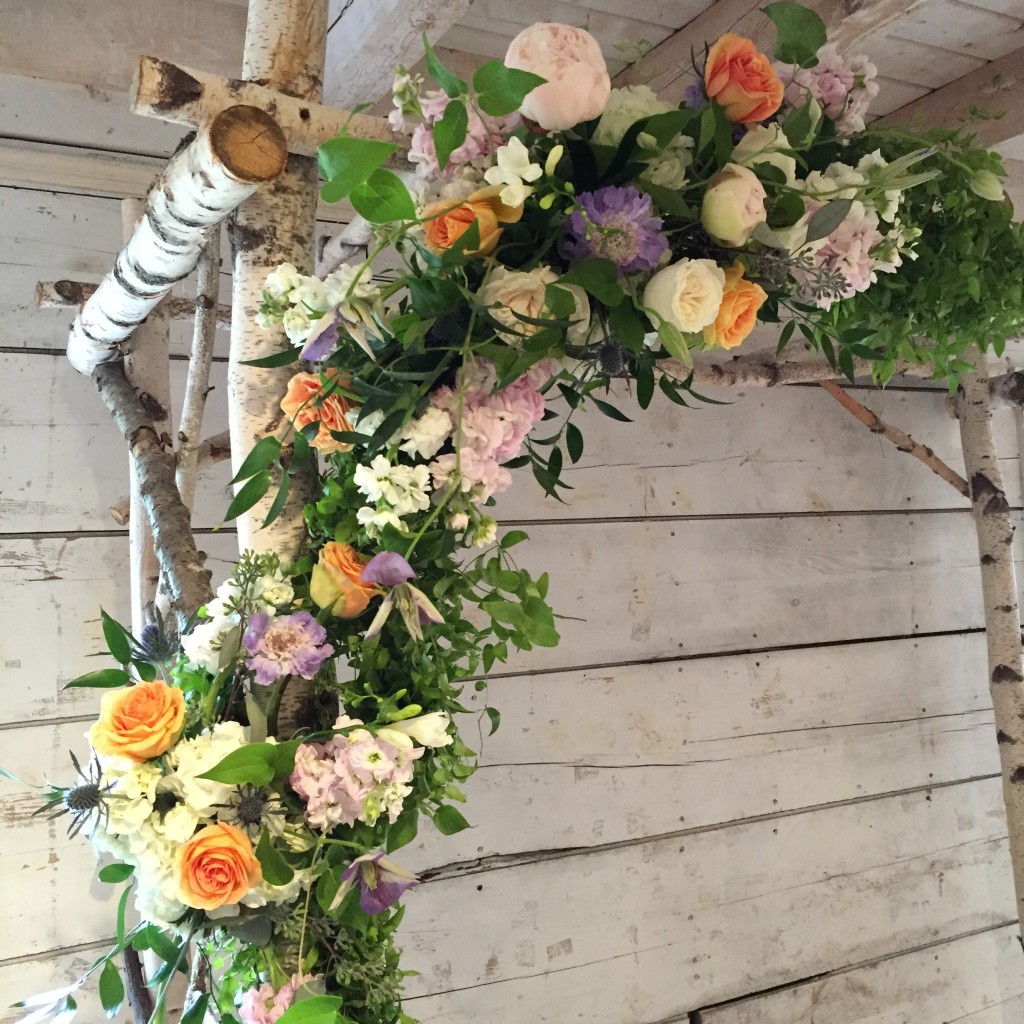 I don't know if it's the dusty miller or the crespedia or the perky white dahlias, or the white and yellow palette, but this bouquet has been a perennial in my portfolio for almost a decade.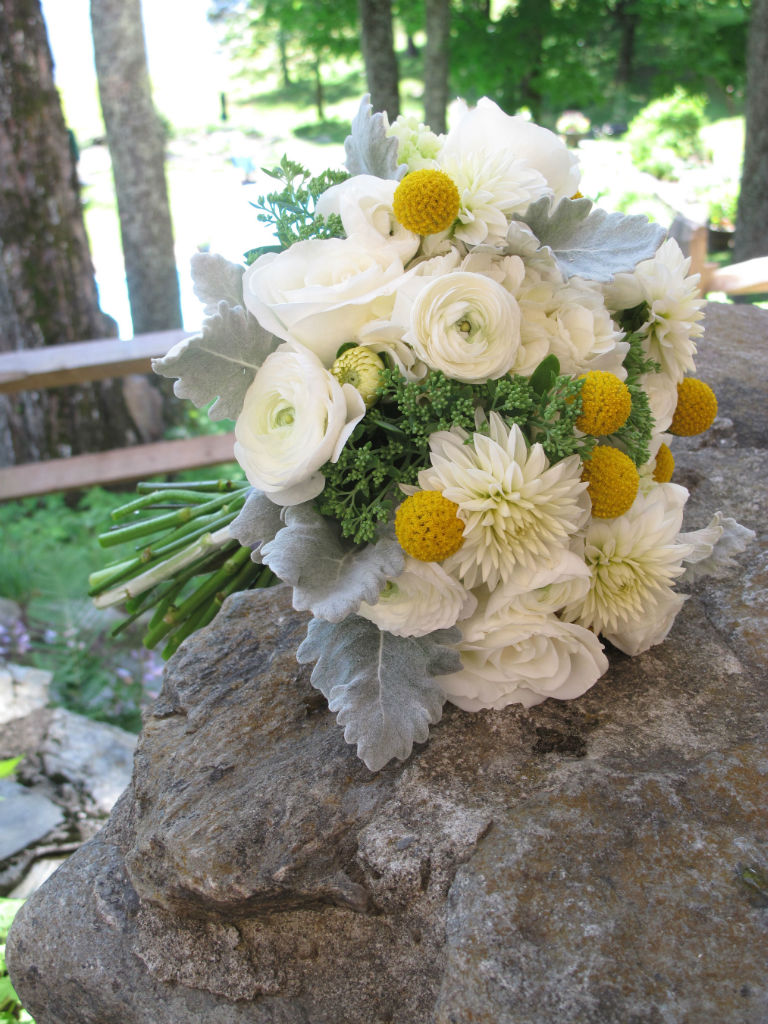 I took the next pic at The Round Barn on my favorite rock wall. It's the bright colors and summery blooms that make this bouquet a favorite.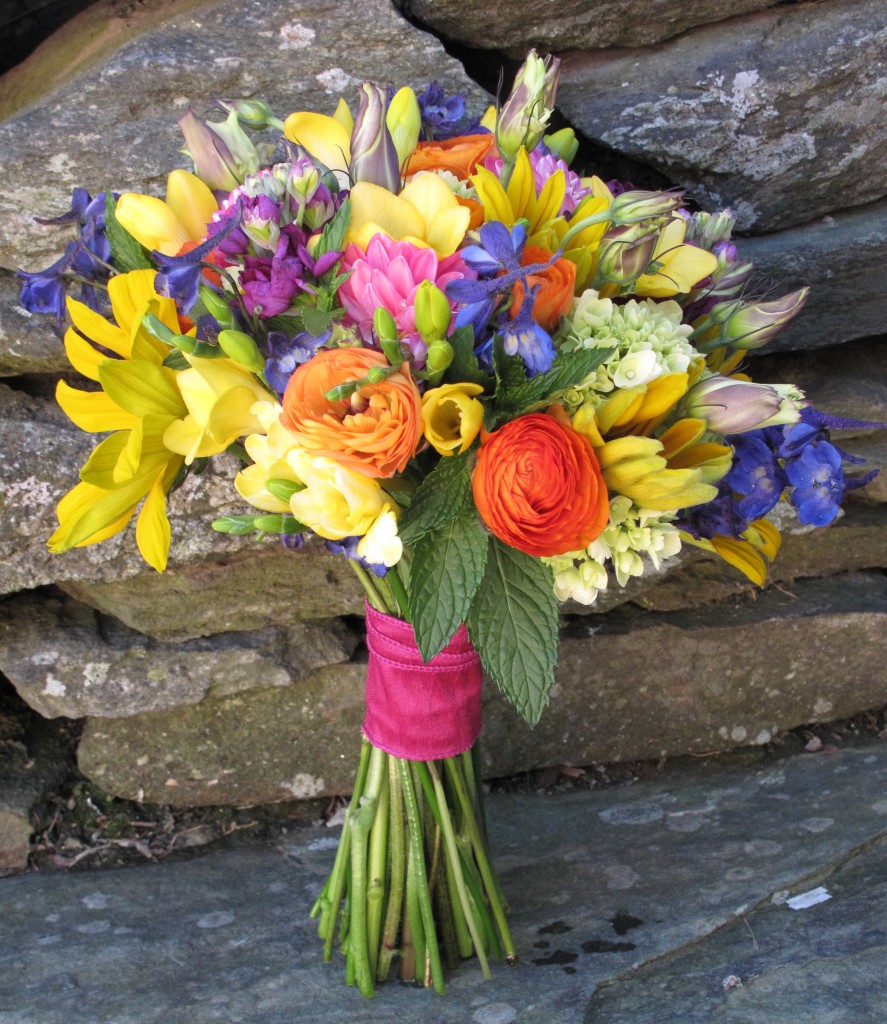 This was a bouquet for Franny! She didn't need much for her wedding other than a bouquet, and it was quickly one of my "most liked" bouquet pics on Instagram. The dahlias and ranunculus just make the whole bouquet pop! (Franny and I never met in person, but I'll never forget her!)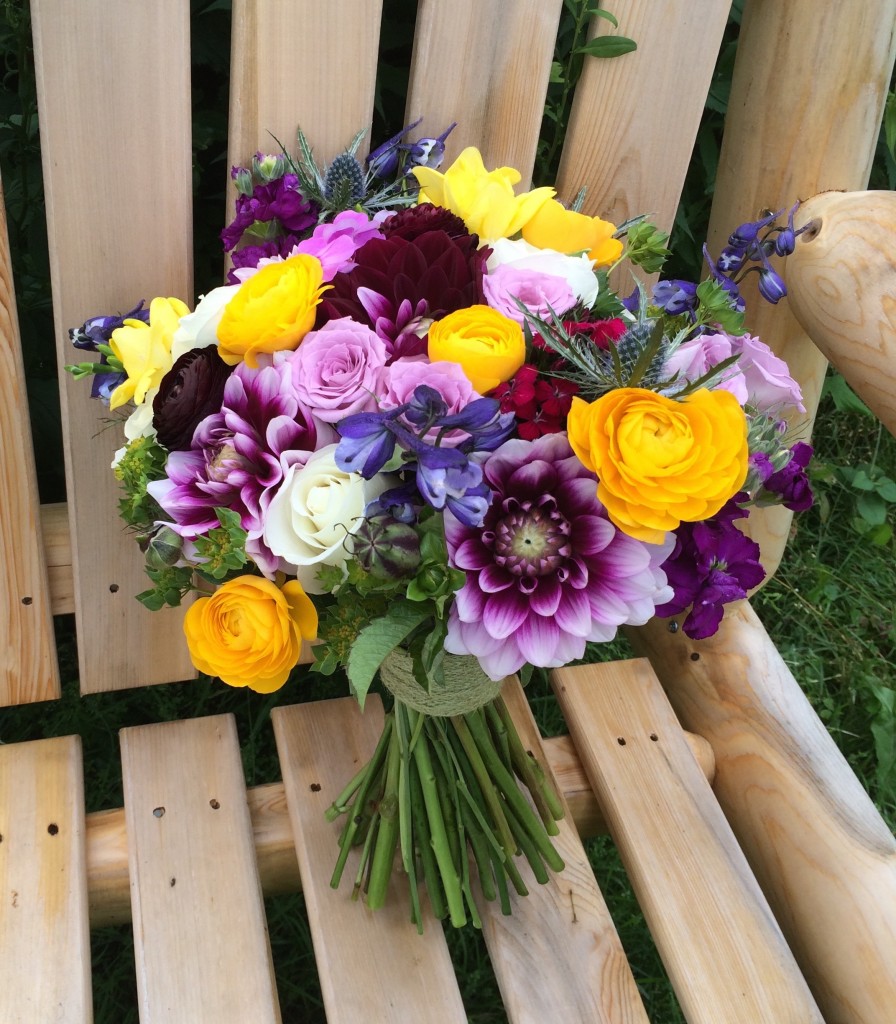 This dress with this bouquet. This beautiful couple with a couple of cows wearing flowers at Shelburne Farms is a favorite for so many reasons. (Another shot by Amanda of Orchard Cove.)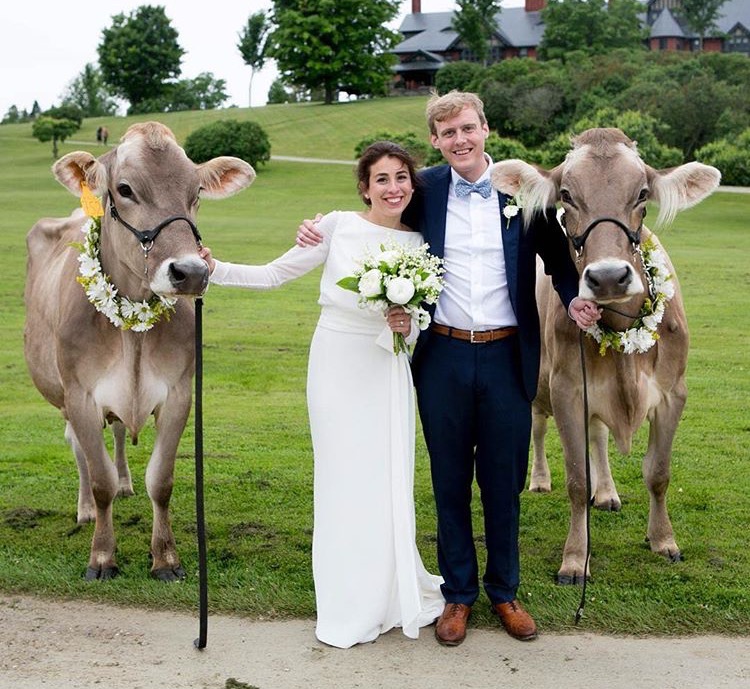 Gardenias, peonies, green roses and hydrangea–need I say more? This July wedding with lush, gardeny tabletops combines the best of "casual, yet elegant".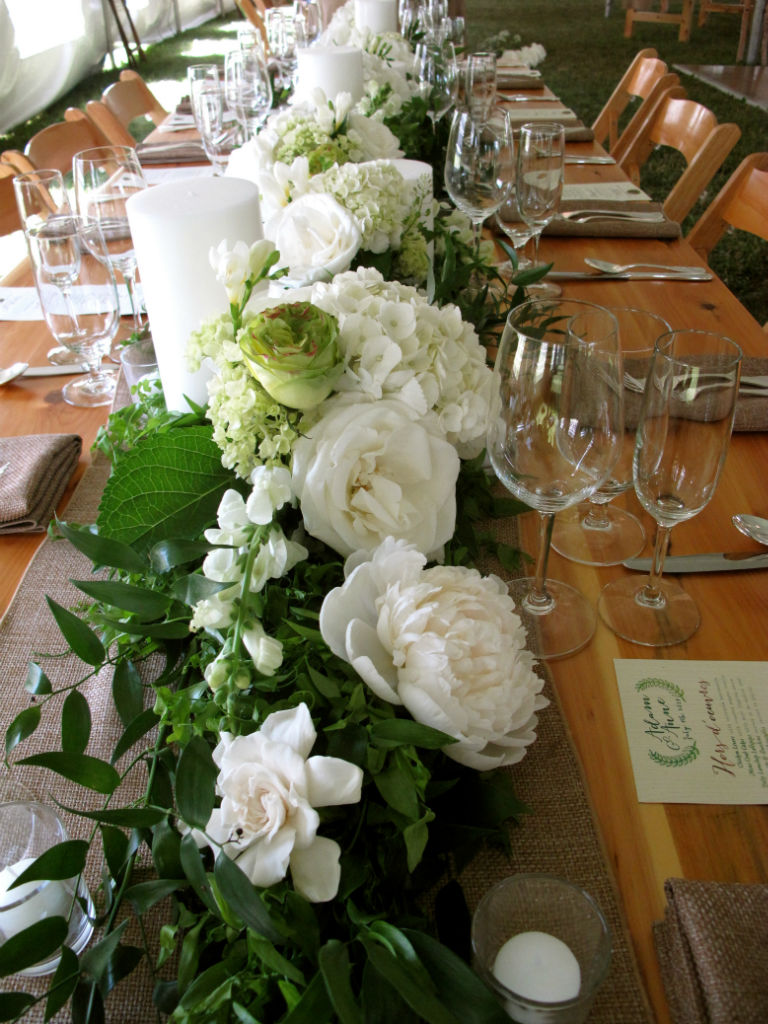 The tiny touches of yellow and the airiness of the ferns make this bouquet something I'd love to carry myself!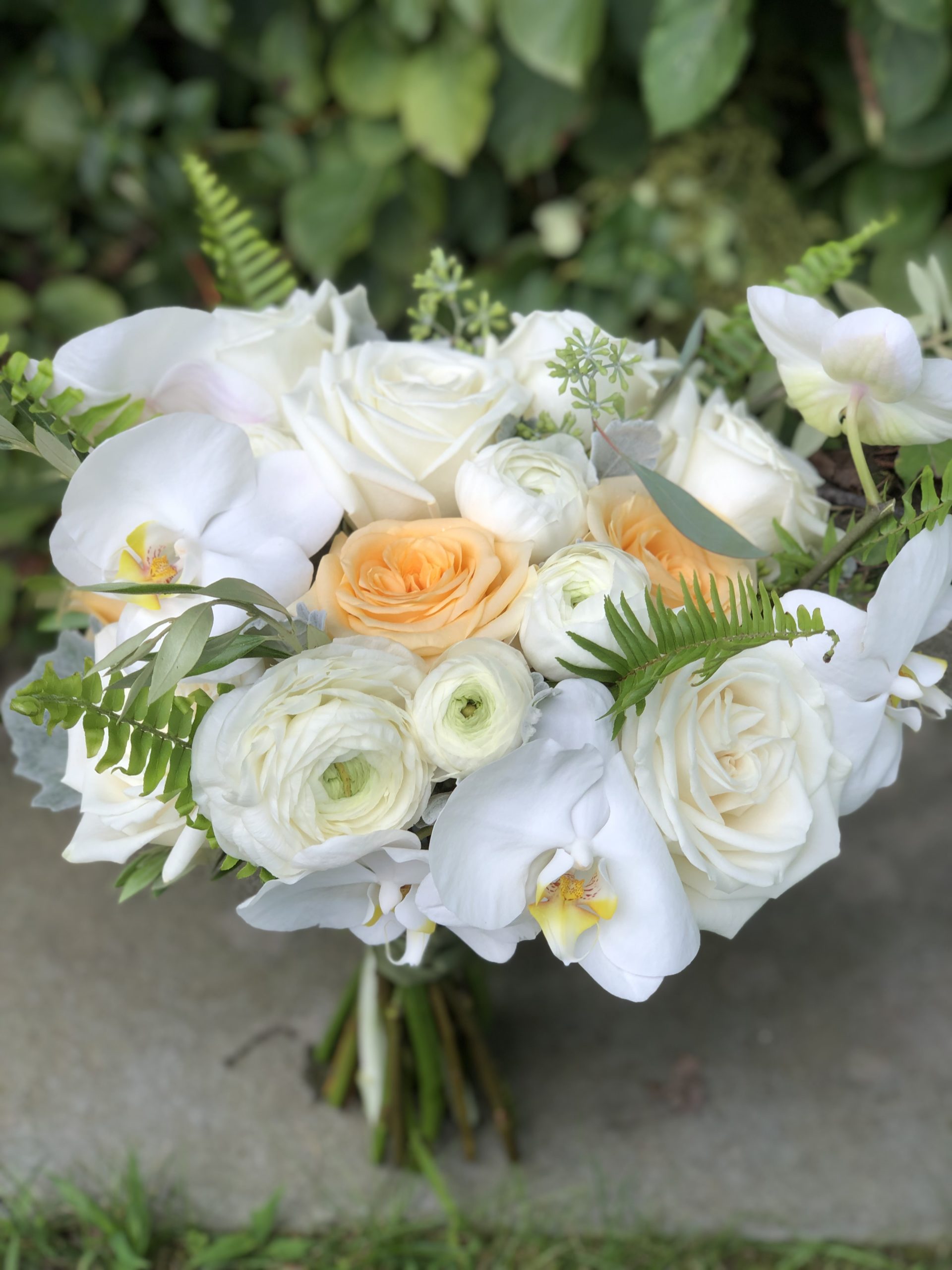 I know this is more of a cake picture than a flower photo, but I'd be lying to myself if i didn't call this one of my favorite pics from the last 20 years. I think it's the daisies and that backdrop!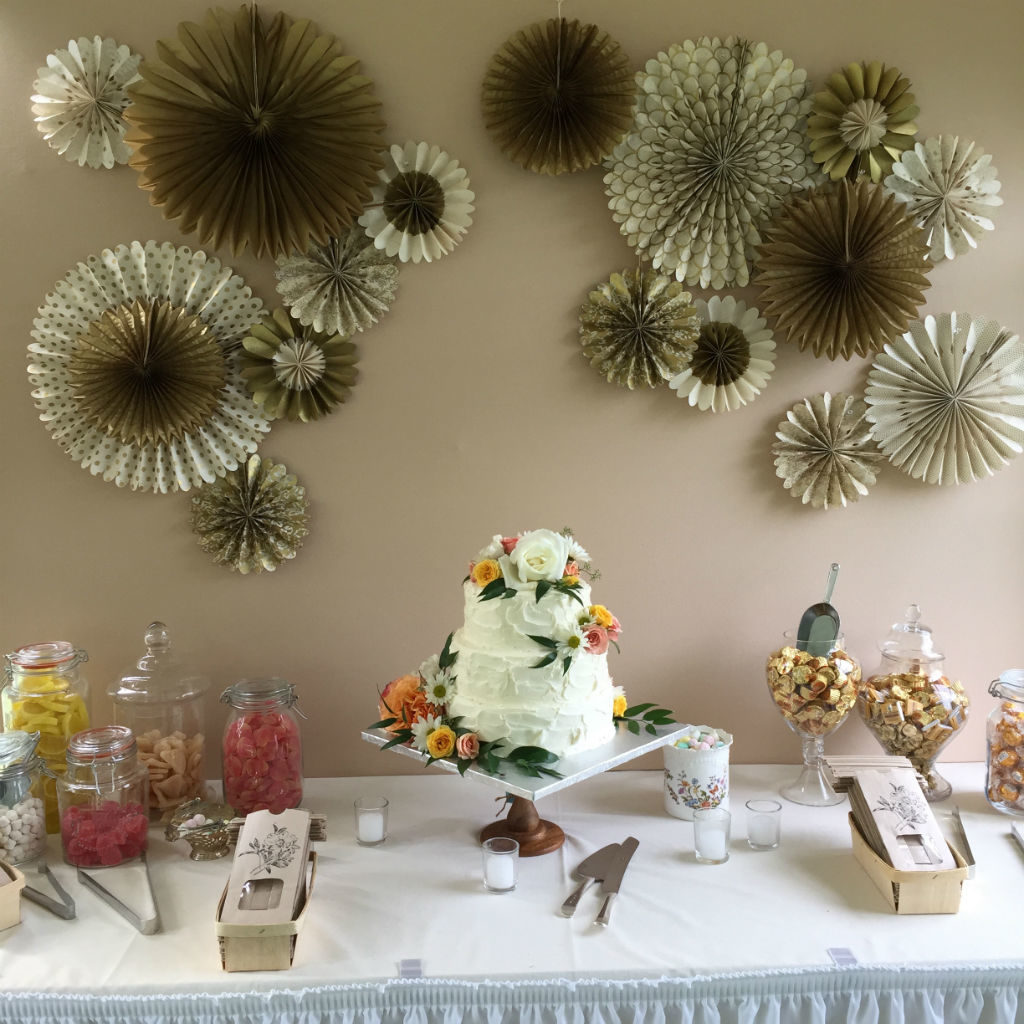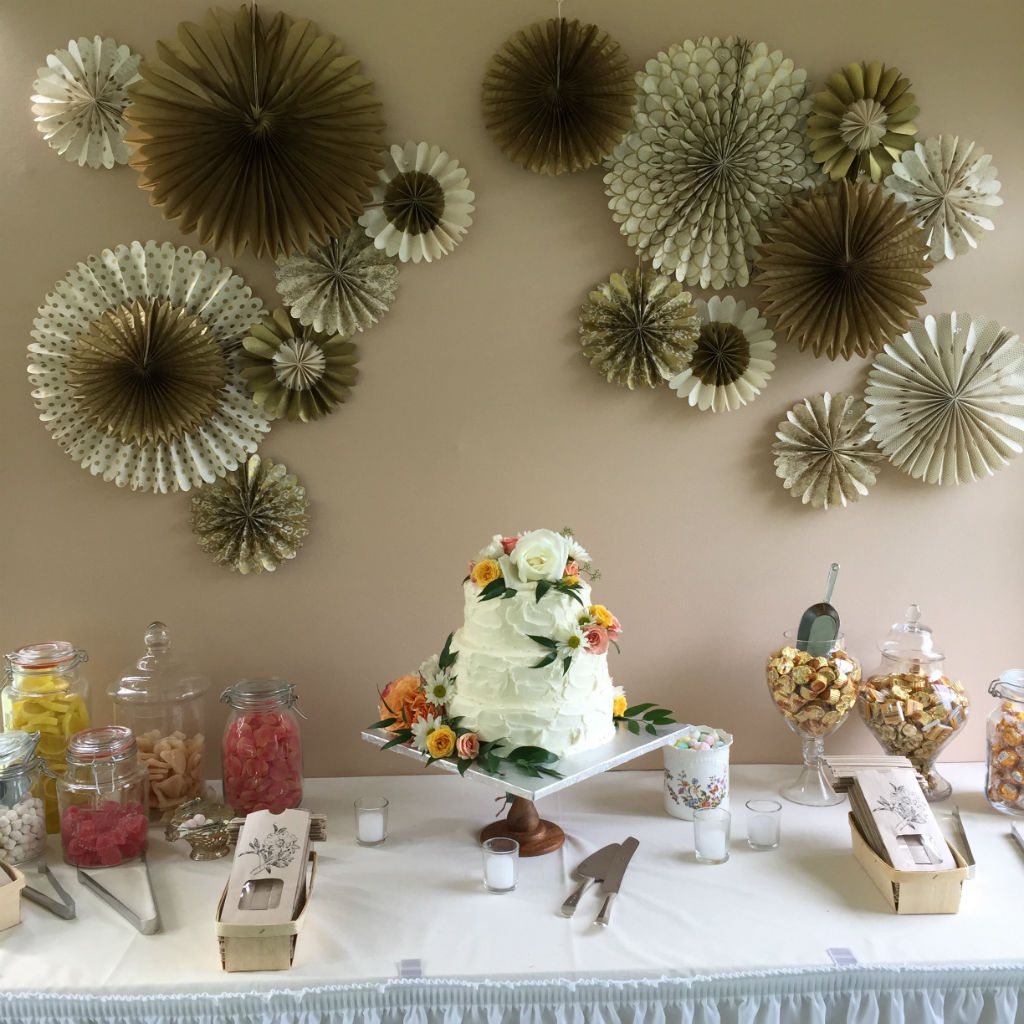 Daria Bishop Photography snapped the shot below many years ago and it's also included in my book. I love everything about this image. Aren't they the sweetest?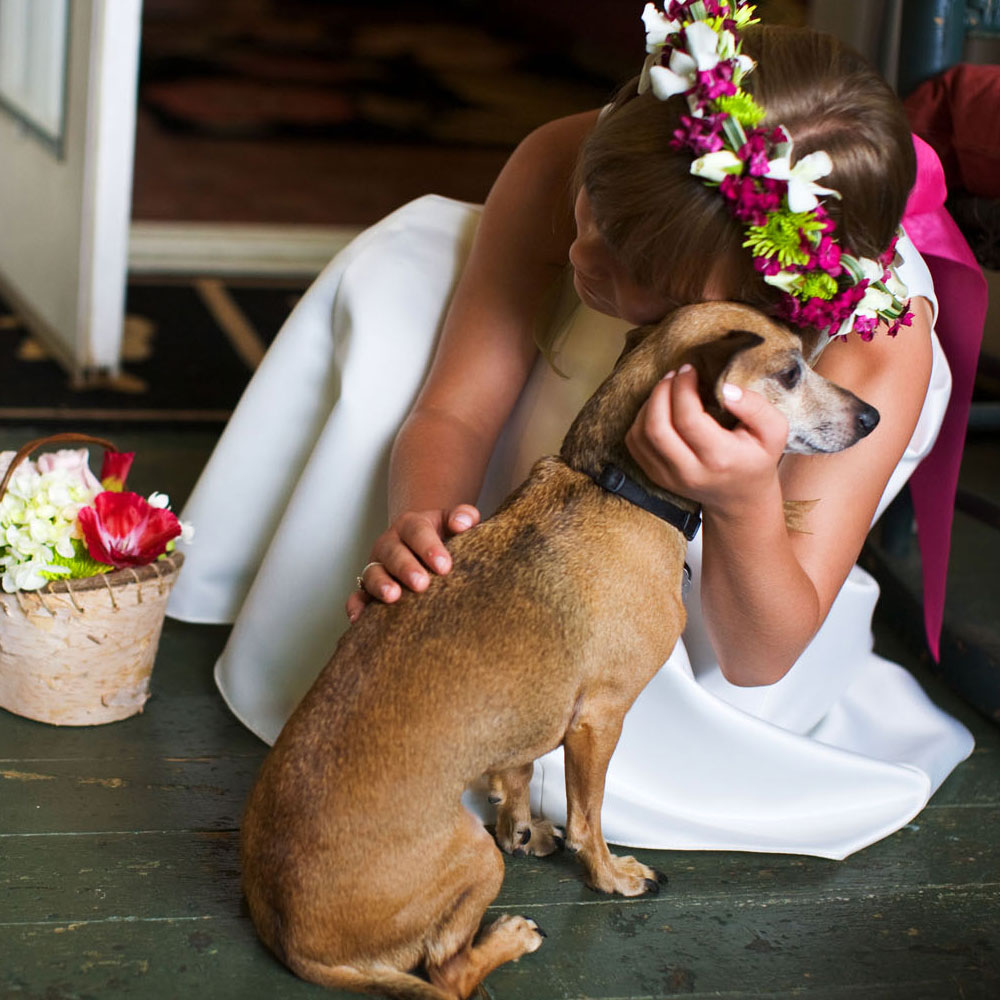 Color makes every event feel "a little more fun". Pops of purples and blues aren't for everyone, but when color feels right for you, it's an absolute joy to work with as a designer! The next few photos are all about color.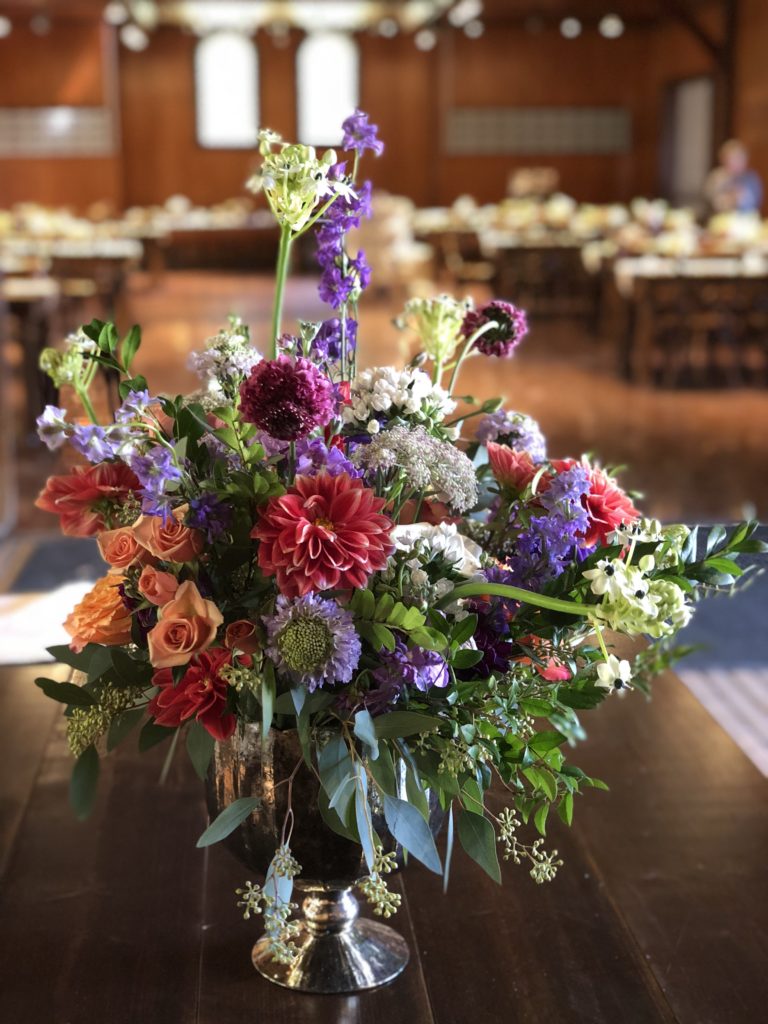 Floral table runners added color down the entire length this head table and made the reception look full and vibrant. A touch of thistle at each setting added a finishing touch.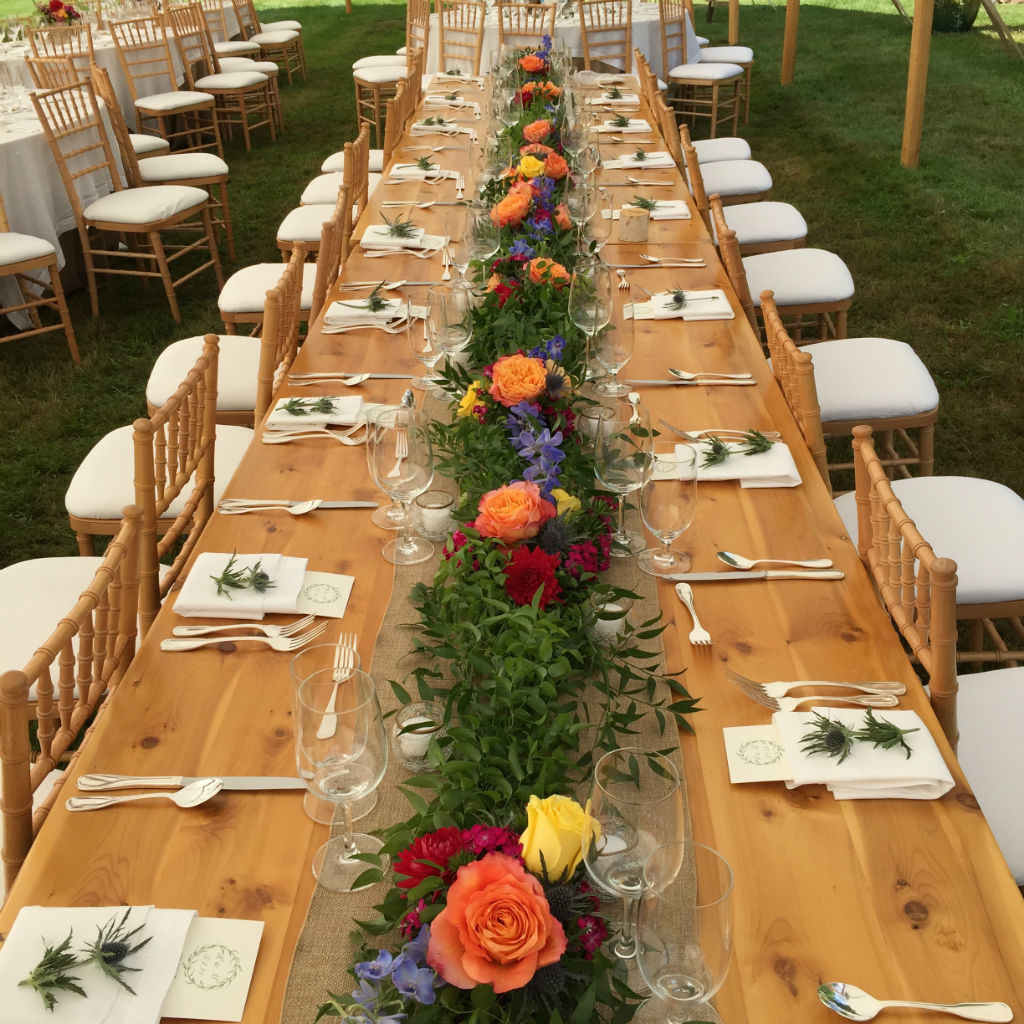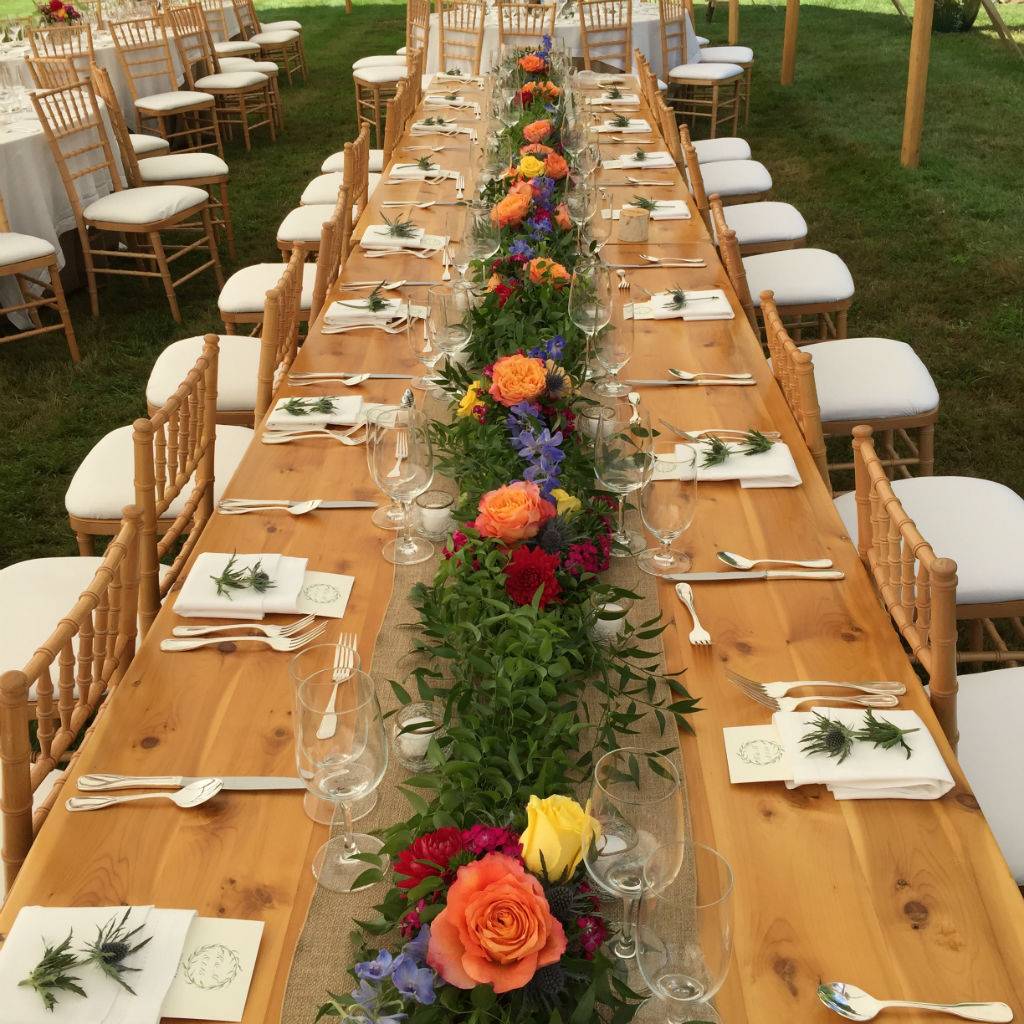 The blues and oranges, a footed pedestal bowl, a tent filled with color and texture–this July wedding at Trapp Family Lodge was a favorite of 2021 and you can see more flower pics here!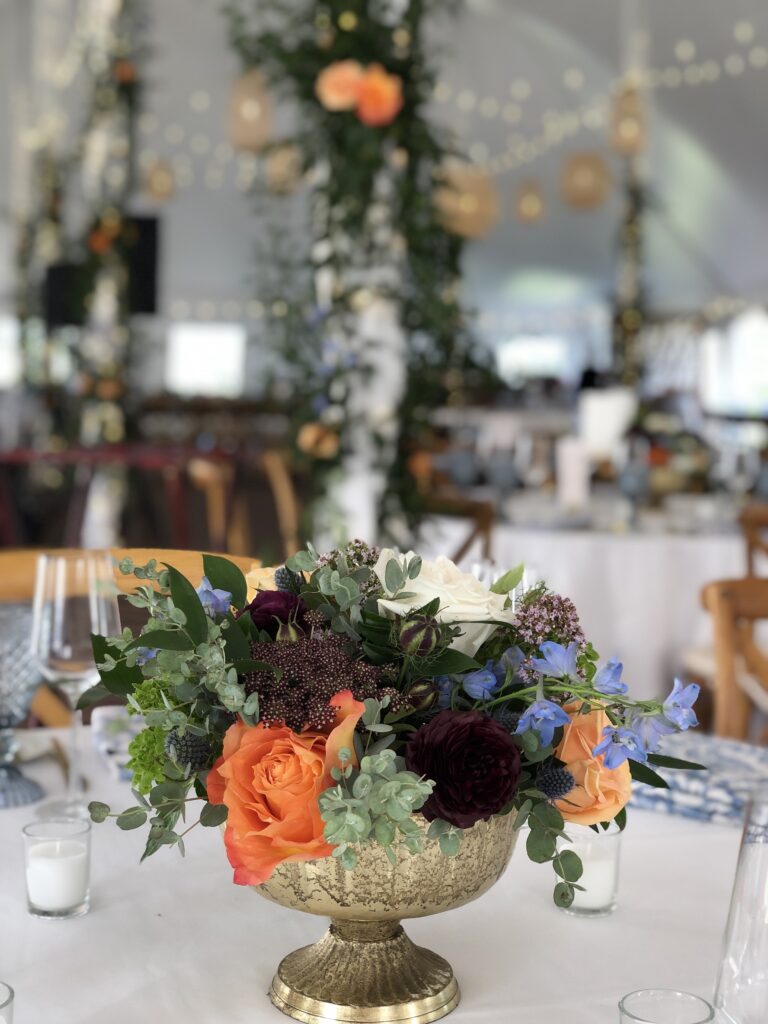 Botanical Brouhaha shared this fall bouquet once and that's one reason it became a favorite. The dahlias and smokebush with that touch of peach ranunculus is what steals the show.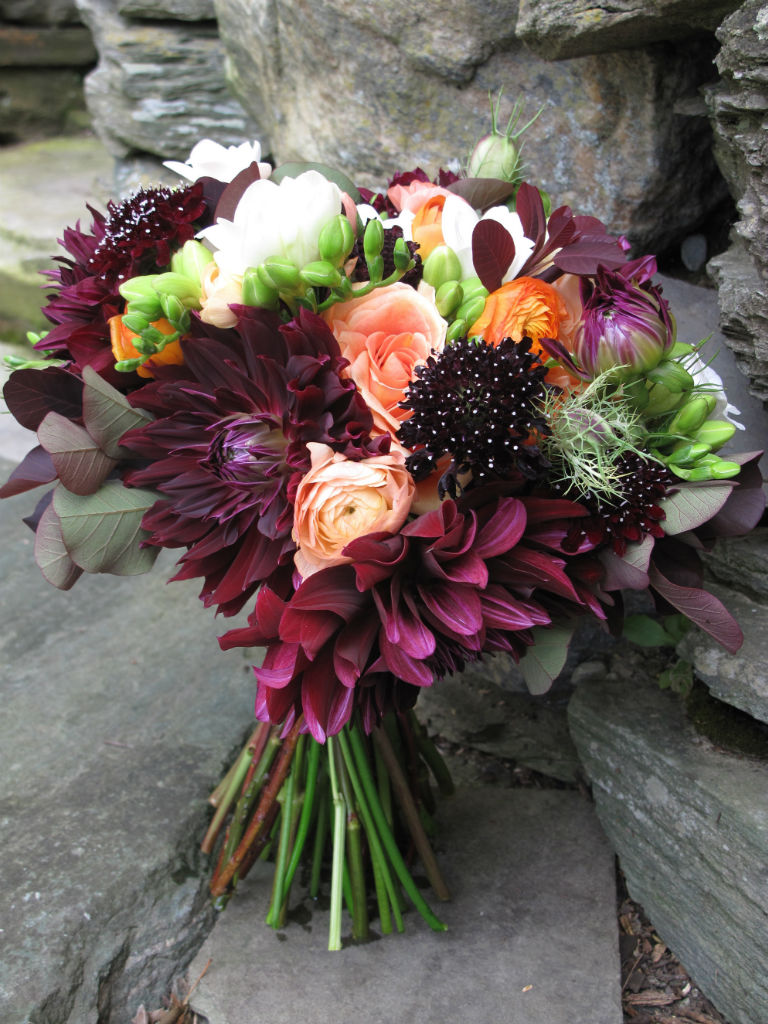 This is an image from our first wedding at Maquam Barn last September. I love the wine barrels and the arbor with the blue sky and mountains in the background. See more on my blog here!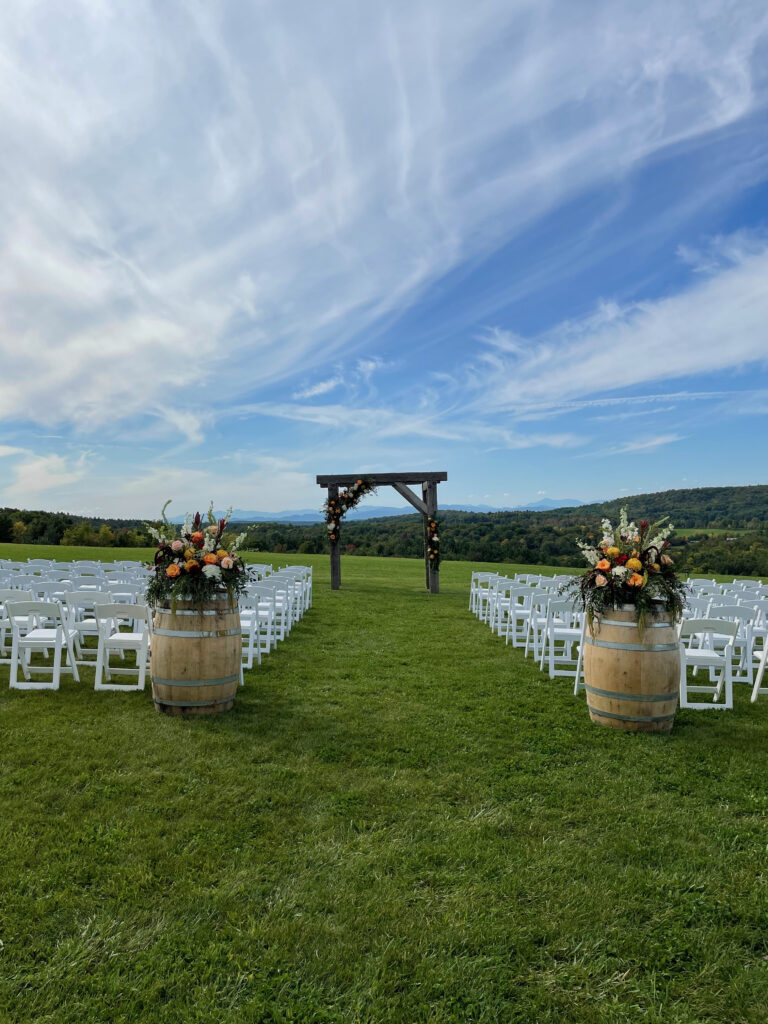 After 20 years of weddings, it always surprises me how much joy a fall palette brings me. It's refreshing to get to work with fall palettes after a busy summer and it almost feels like a whole new job when I get to play with new colors and new flowers. The texture is what I love so much about this last image.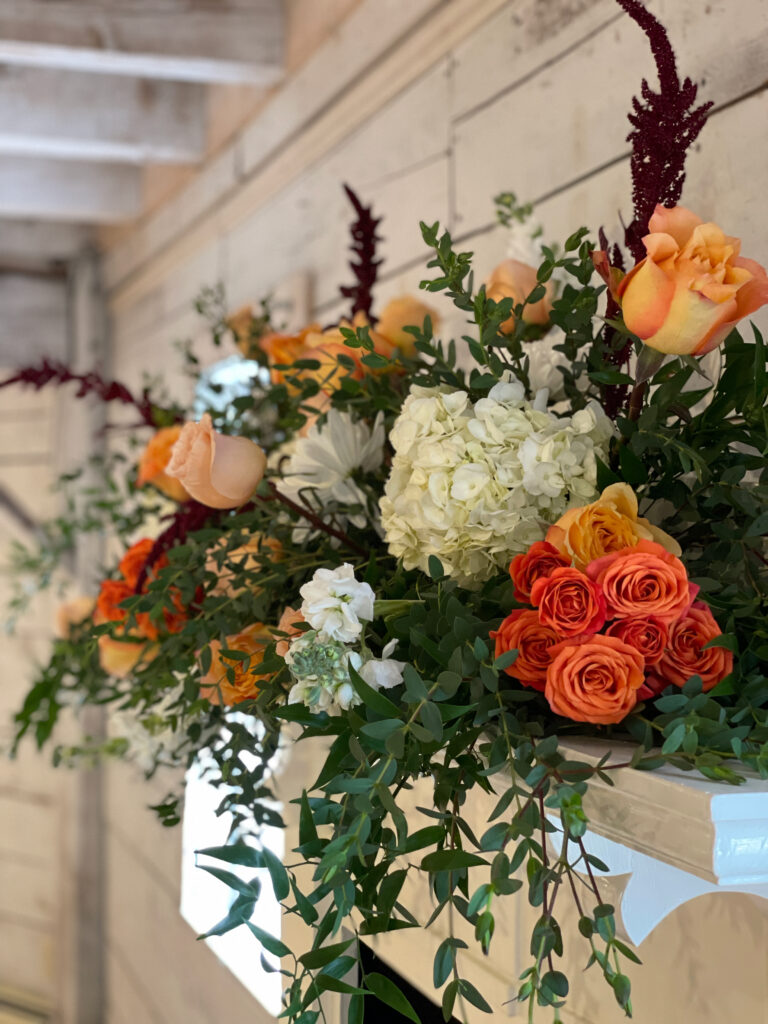 ---
It was so hard to narrow down 20 years into just 20 images–I had to leave out a lot of my old favorites to make room for newer ones–but I'm happy with this collection!
Over the course of my career a lot has changed, but one thing that remains constant is my crazy love for beautiful flowers and a complete obsession with creating a vision for my couples that feels like "them".
Another thing that's remained consistent over the years–the wedding team is the backbone of a successful event and I've been working with some of the most talented wedding professionals in the state of Vermont for decades. (And we just keep getting better if you ask me!)
My 2022 calendar is booked up, but I am booking clients for 2023 so if you are planning a Vermont wedding and would like to work with me, get in touch to share some details about your plans.
Tell Me About Your Vermont Wedding!