I'm so excited to share today's post with you. I recently returned from what was easily the most inspiring week of my life.
In fact, it was so good that it's hard to put into words. The creativity, generosity, friendship, camaraderie, mutual admiration, jaw dropping awe and sheer beauty I took part in was once-in-a-lifetime good.
I attended my third Chapel Designers Conference in NYC and there's one word to best describe the experience: Feminism.
Flowers and femininity are clearly tied together, but I'm talking about something bigger, bolder, and more powerful.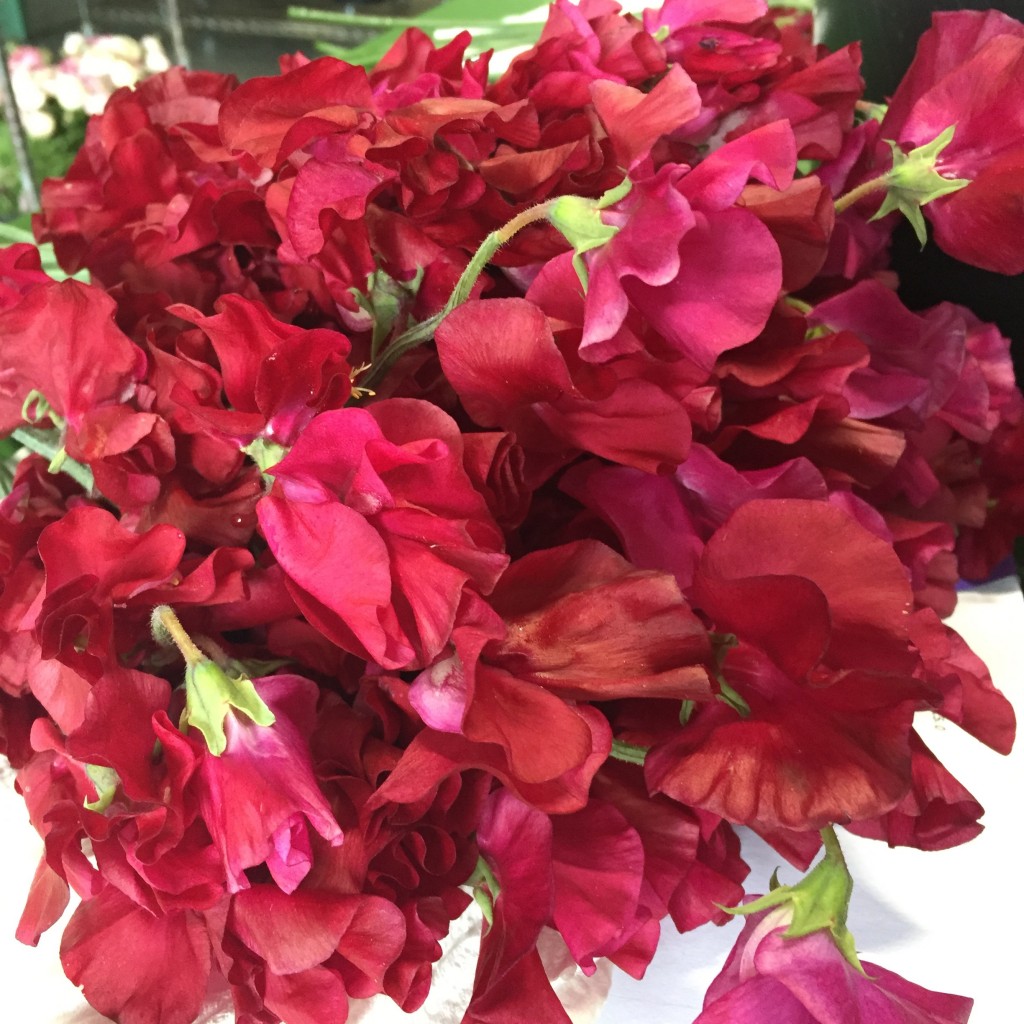 Floral designers appreciate the ephemeral beauty of the blooms with which we work, but this trip to New York was not about the sweet peas or the ranunculus (although they were some incredible sweet peas & ranunculus & David Austin Roses). This conference embodied feminism. The Chapel Designers are an incredible collection of lady bosses…and a handful of men…who all make up one powerful group of florists. In short, The Chapel Designers are awesome.
Here's the scoop…
Approximately 50 designers gathered in NYC to learn, teach, and practice. We heard from industry leaders, innovative designers and expert wedding planners over the course of 3 days.
We learned about elevating our craft.
We talked about how much we love our customers.
We welcomed new members.
While "magic" might be an equally appropriate word to describe the #chapeldesignersnyc2016 experience, the word feminism trumps all. Women were empowered.
Women were brilliant.
Women were in charge.
Women were creative.
Women were stunningly beautiful in different shapes, sizes and ages.
Chapel Designers roared in NYC.
Here are a few highlights from Day 1…
Each speaker was female with the exception of Putnam and Putnam who gave a beautiful demonstration on grouping color and creating graceful gestures in asymmetrical designs. This was truly one of the best design demonstrations I've seen on the thought process and approach to an asymmetrical compote design. It takes true skill and a great eye to create a stunning asymmetrical piece.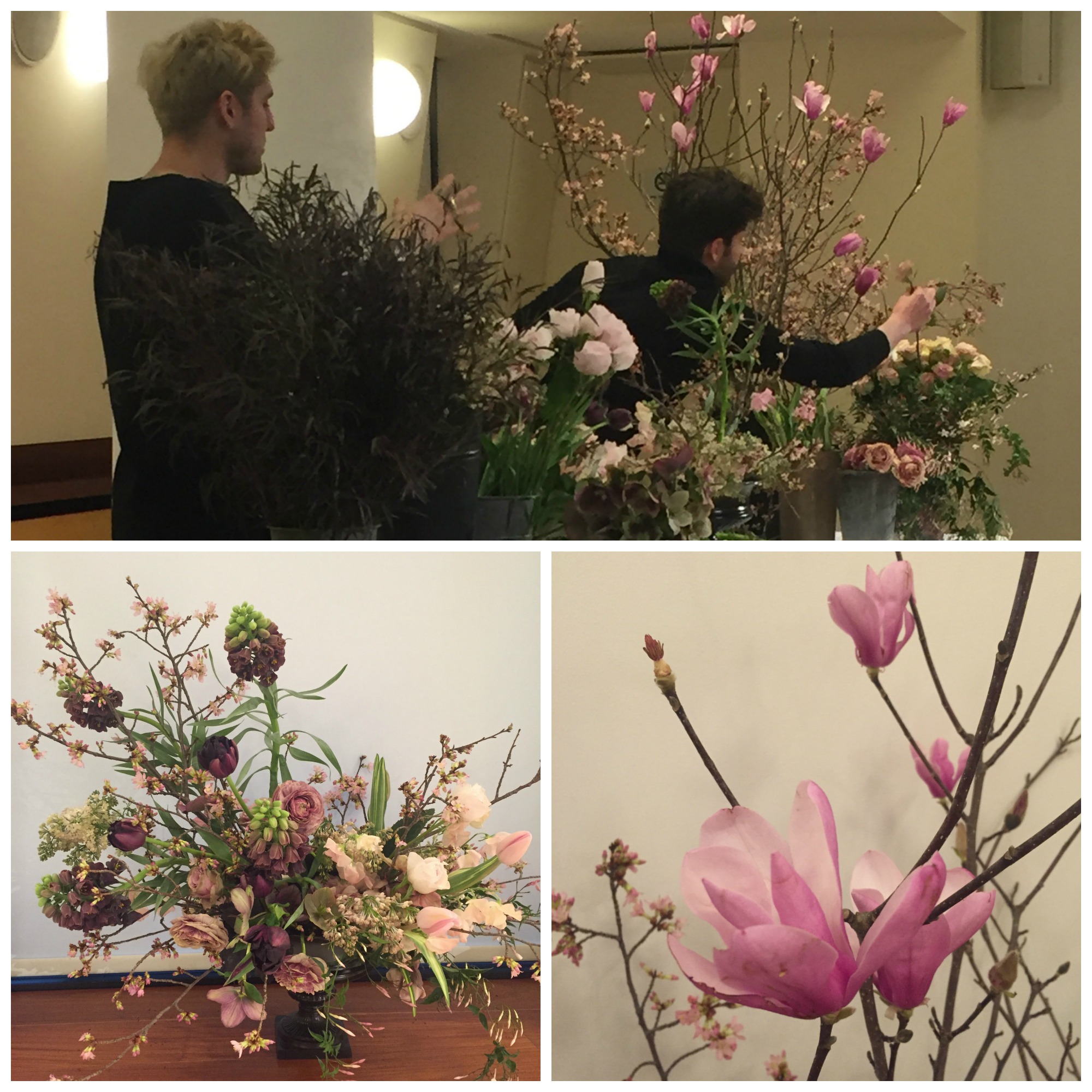 Next, the incredible planning team of Grit & Grace shared an electric enthusiasm for the challenges of executing an unforgettable luxury event. These ladies know how to assemble a winning team for their clients and they celebrate the victories of each vendor who contributes to the success of their events. The women of Grit & Grace make incredible things happen for their clients and they're not afraid of a challenge. They consider it their job to address any obstacles that stand in the way of the team's success. They are top notch planners…with grit and grace.
They say third time's a charm and this was my 3rd year having the pleasure of watching Naomi de Mañana of Martha Stewart do a live design demonstration. She's the talent behind many (dare I say MOST) of the floral pieces found on the pages of Martha Stewart magazines. Images of her work are staples in the wedding industry. Naomi's inspired many designers and brides alike. For someone with such a "boss" job in the style-making industry, she is far more humble and charming than one would expect. She approaches flowers like a Dutch painter…she finds the natural beauty and shines a light right on it.
Day 1 in NYC came to a close with the incredible insight of Christina Matteucci of David Beahm Experiences. As David's #2 she's in a unique position to share the benefits of being second chair. She spoke eloquently on how being David's #2 doesn't mean she "hasn't arrived yet", rather it means she loves playing a supporting role. Christina is a star and absolutely brought us to our feet with a grand finale on opening day.
This was ALL just on day 1…and then, we ended the day with a private cocktail party at the top of the World Trade Center. Just wow. Major thanks to David Beahm and Daevid of Team Beahm for coordinating this special surprise for us. Most of us had not been to the WTC so it was a moving experience and one we're all so glad to have shared.
Ready for Day 2?
We left for David Beahm's studio at 7:45am where we learned from the incredible Hitomi Gilliam. Her mechanics and knowledge in the floral field are superior. Hitomi proudly teaches that professional florists should create designs with sound mechanics; designs that will last for the customer as opposed to "photoshoot only" designs that are frequently featured in media, yet cannot be recreated in real life. (If you're a floral designer you must watch this video on how she creates a floral headpiece. It might blow your mind up!)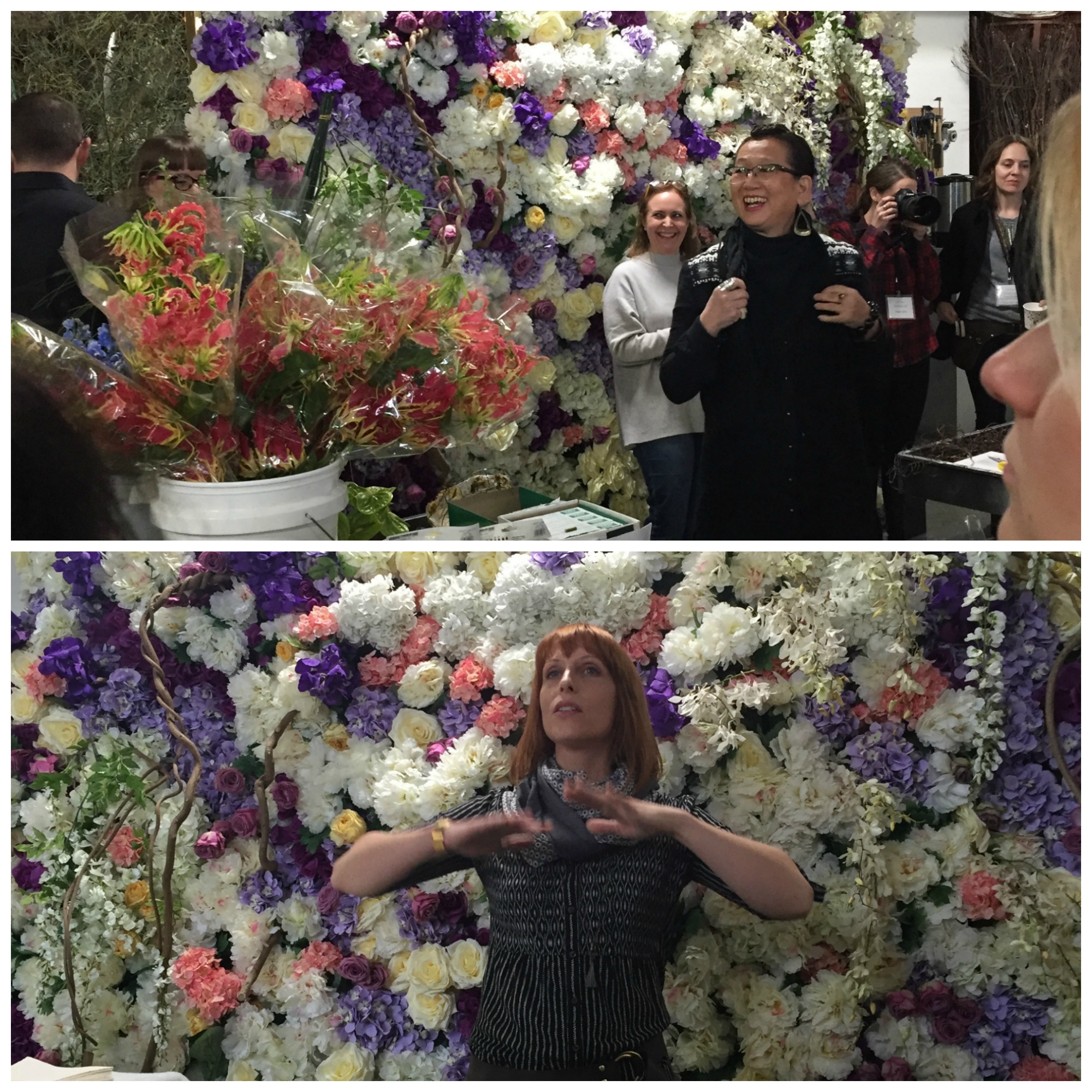 The talented Susan McLeary of Passionflower followed right behind Hitomi with her approach to designing wearables including her succulent jewelry and award winning headpieces. Susan is so generous with her knowledge and always credits her mentor, Francoise Weeks, for igniting a creative spark on her incredibly beautiful and creative journey.
Each Chapel Designer created her or his own wearable floral piece to be modeled in a live fashion show the following day under the tutelage of Susan and Hitomi (as well as the designers to the left or right of us….this whole studio was brimming with talented pros!). Designers had about 3 hours to complete their designs. (I kept imagining Tim Gunn saying, "Make it work.")
The afternoon buzzed with creativity and "ooh's and ahh's" and cries of "that's gorgeous!".
Each pieces was unique. Each piece was beautiful. And each piece stayed fresh and gorgeous thanks to those stellar sound mechanics we'd employed.
On our final day in NYC…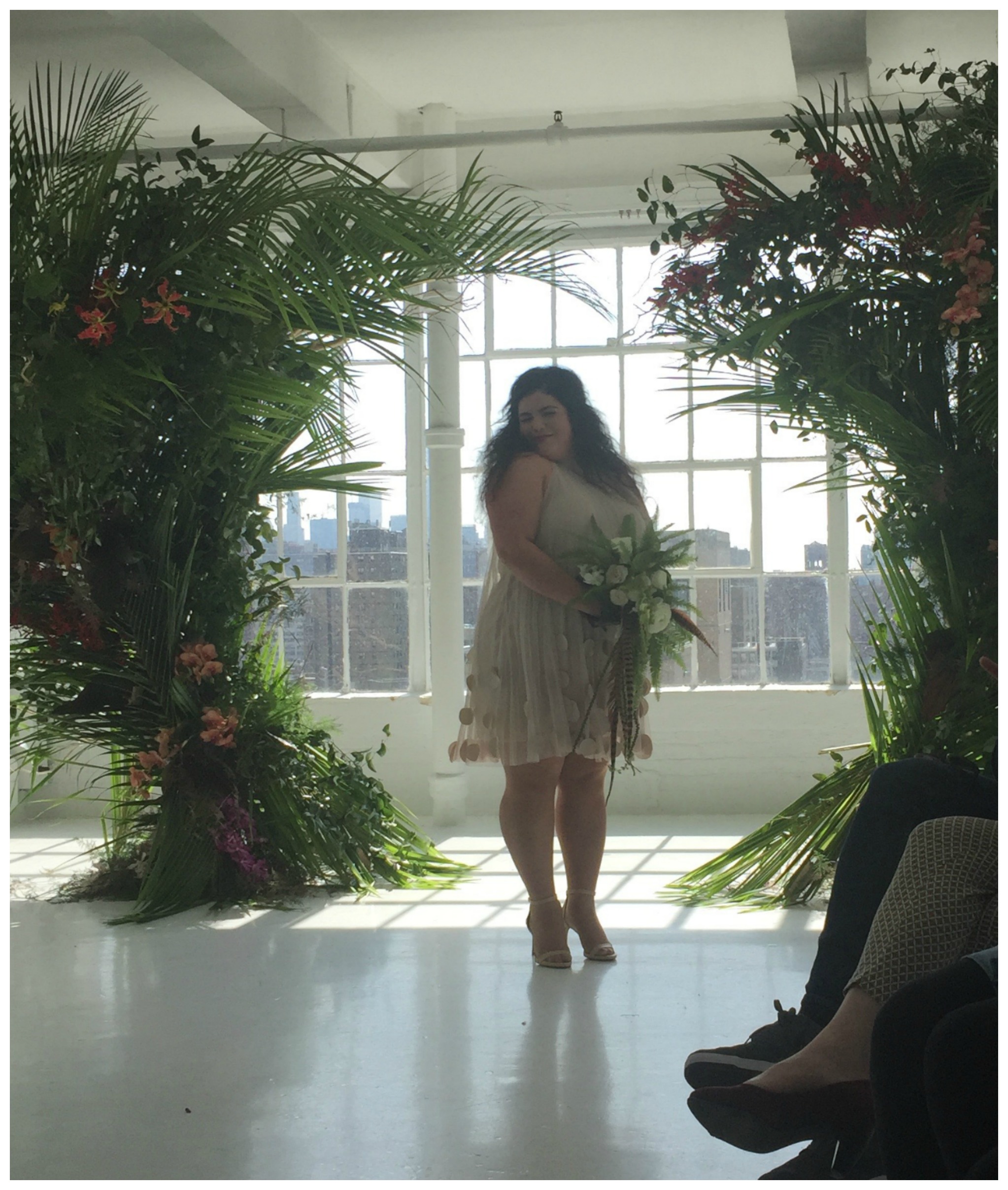 We had a fashion show, of course. The Flora And Fauna Fashion Show was an incredible ending to this feminist movement. In the photo above you can see the gorgeous Christina Matteucci modeling  a floral muff I designed with anthurium, ferns, ranunculus, and pheasant feathers.
Some majorly talented designers created the beautiful foliage and flower backdrop for the runway at Studio 450. The white room was flooded with light from the large windows. The flowers looked amazing. Everyone was excited and inspired. We were ready…
But first, we met the incredible Beatrix Ost (read about her here). At 76 she not only proved why she's a fashion icon by walking the runway like a pro, but her motto "In your Body is a good place to be" is a shining example of how beauty from within translates to beauty, period.
In the photo below I caught the talented Kate of Devon & Pinkett stealing a photo of Beatrix as she modeled a headpiece created by Tasha of L'Arrangement.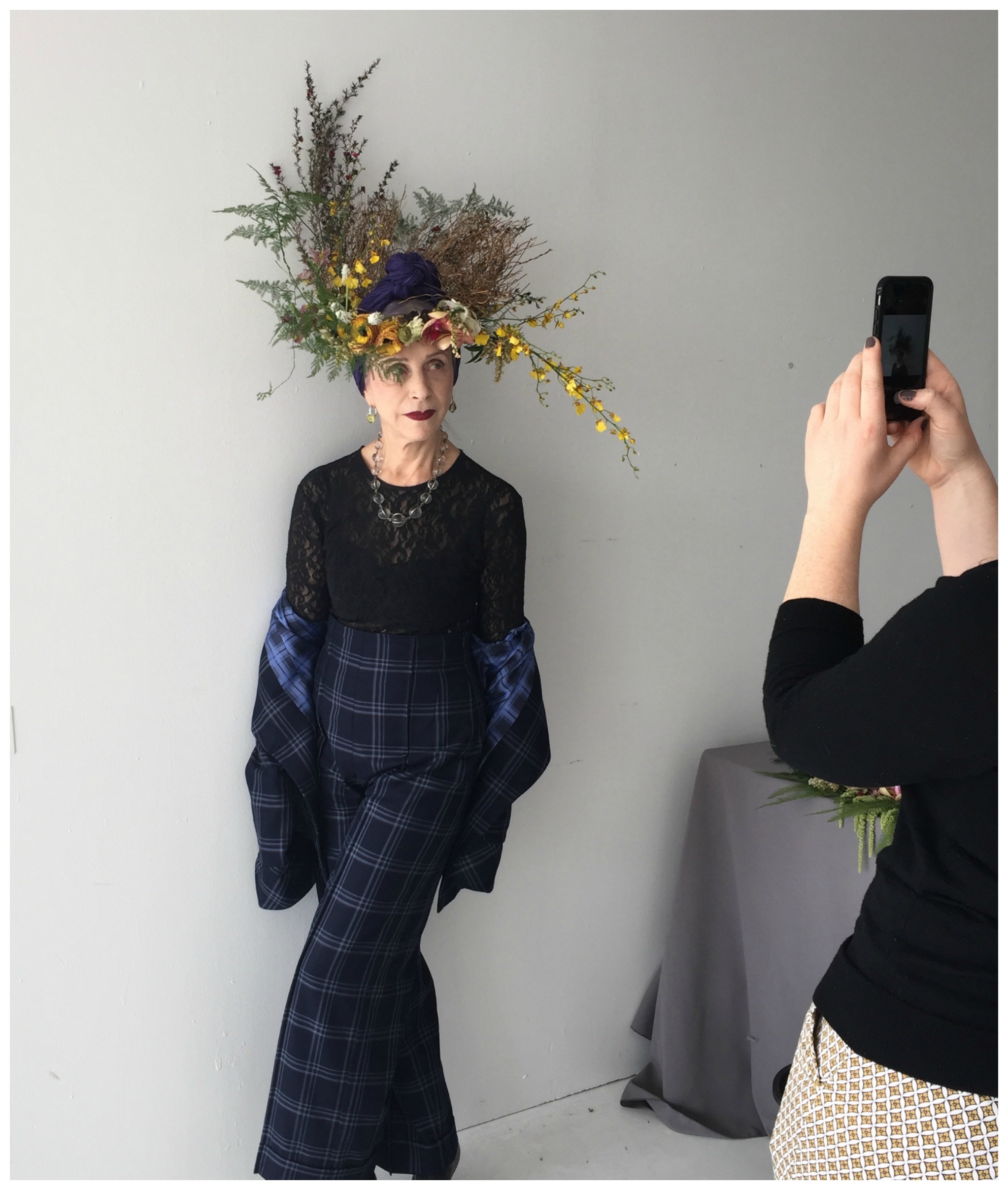 Beatrix shared stories about the crucial role that fresh flowers played in creating a safe haven within the walls of her family farm in the midst of the war as she was growing up in Germany during the 1940's. The importance of flowers can be under appreciated…even by florists!…and Beatrix's recounting of the "jewels on the table" as she called them, made a powerful point. The work we do is important. It's meaningful.
Flowers bring beauty to unexpected (and unthinkable) places. 
And then….They walked.
The models…each with their own undeniable beauty…walked our runway with a fierce feminism that brought the room to to their feet. These women brought us to tears. These women were everything.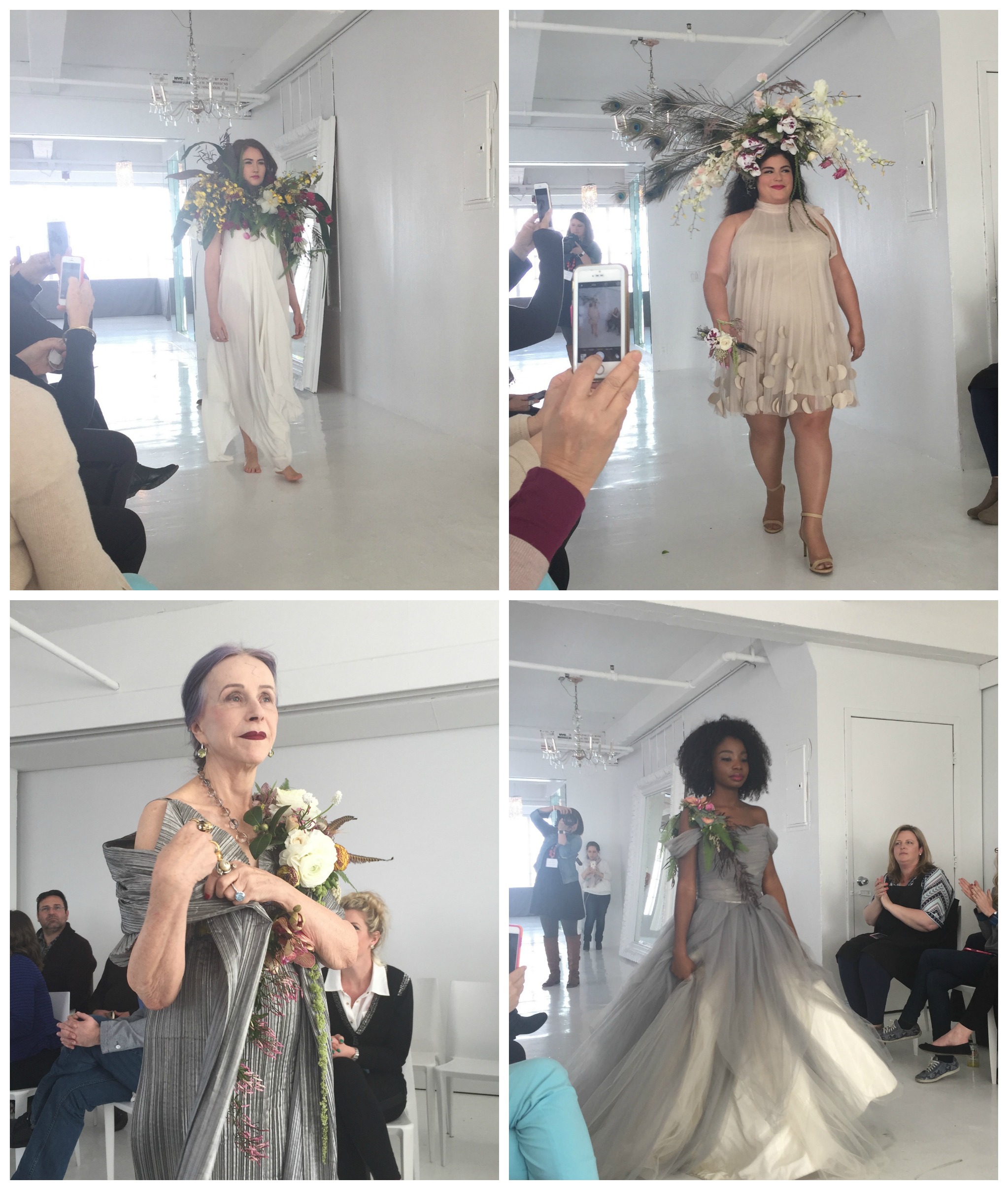 The Chapel Designers are a gathering of stylish wedding experts, but we are all so much more than that…and when we get together…we are unstoppable. With Holly Chapple at the wheel (and her husband, Evan, as her co-pilot!) there's nowhere we cannot go. #chapeldesignersworktogether

A few other notables…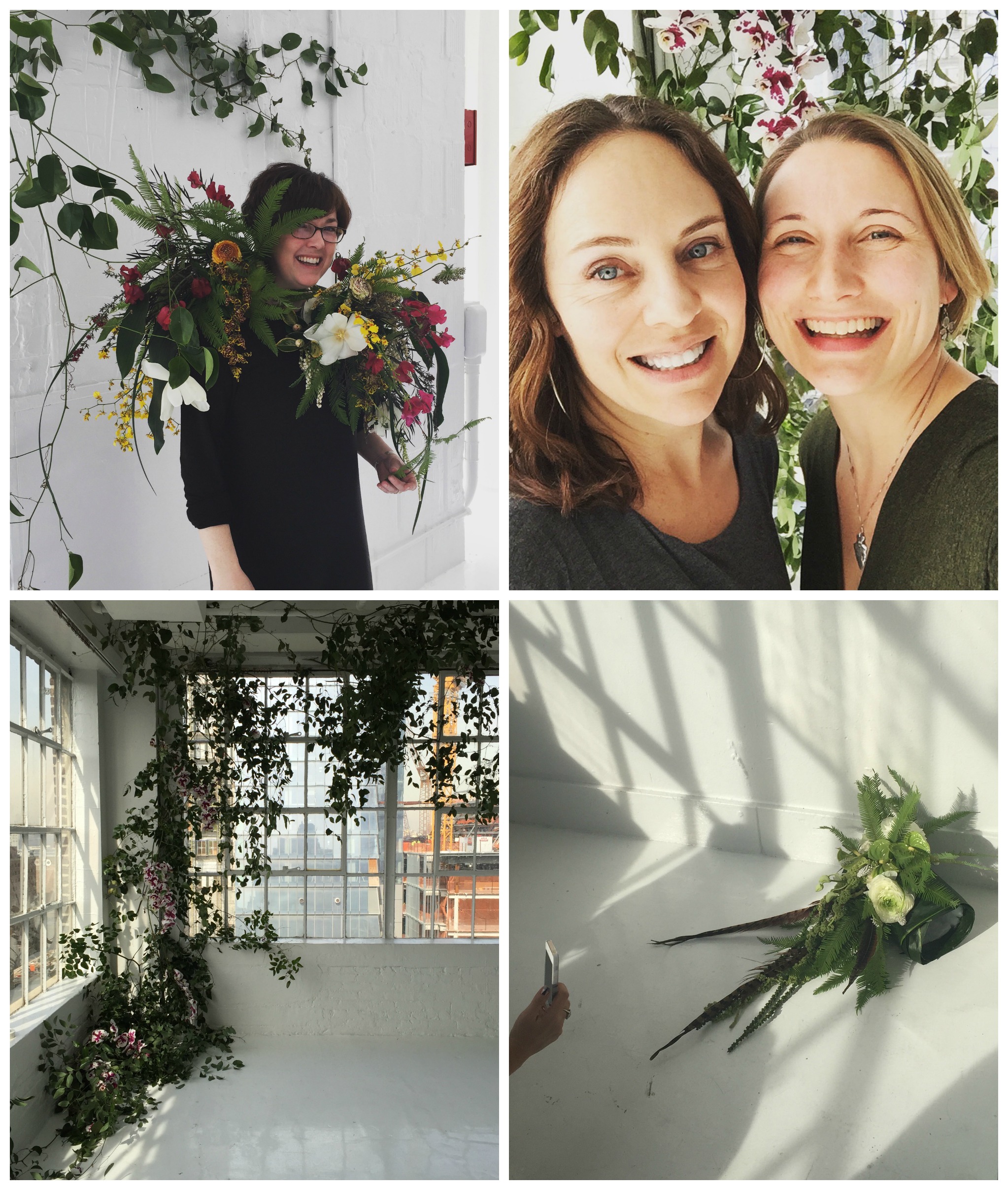 On a personal note there were a lot of Ah-mazing moments on this trip. I met new friends and caught up with designers I only "see" online the rest of the year. Isha Foss told me many times that I am crazy…and she loves it.
I always stay in Jersey with my folks and on my very first day of my very first conference three years ago I met a fellow Jersey girl, Tracey, of Tracey Reynolds Floral Design. She's been my NJ Transit travel buddy ever since. I cherish those train rides to and from Penn Station. xoxo We took that selfie in the top right corner above on our last day in NYC.
Jes Gordon has always made an appearance at the NYC conferences and while she did not speak this year, she did show up! Like a rockstar. It would not have been the same without her presence…even just briefly!
It was a pleasure to finally meet Shannon of Flourish. As a master of Design Master, Shannon is not only one seriously talented lady, but she's hilarious and kind. Shannon's been so supportive of my Floral Artistry Courses and I truly cannot say how good it was to meet her in person.
I also have to mention another smart and funny floral designer I met in VT just about one week before our New York adventure, Lindsay of Yellow Twist Floral Design in Maine. It's a small, crazy floral world, Lindsay! So glad our paths crossed yet again.
It would be impossible to mention all the names and faces that I was honored to share this space with. Everyone has something to teach and everyone has something to learn.
As Amy McGee of Botanical Brouhaha, our fearless organizer and constant supporter, might say, I'm gonna hug their necks when I see them again.

UPDATED MARCH 8, 2018: I'll be teaching at Hope Flower Farm at the end of April with Holly, Francoise, Hitomi, Passionflower Sue and the incredible Gregor Lersch. Click HERE for details and join us for the next Flora & Fauna Fashion Show! (Tickets will be sold to this event to raise money for cancer charities.) I hope to see you there! xo. -A