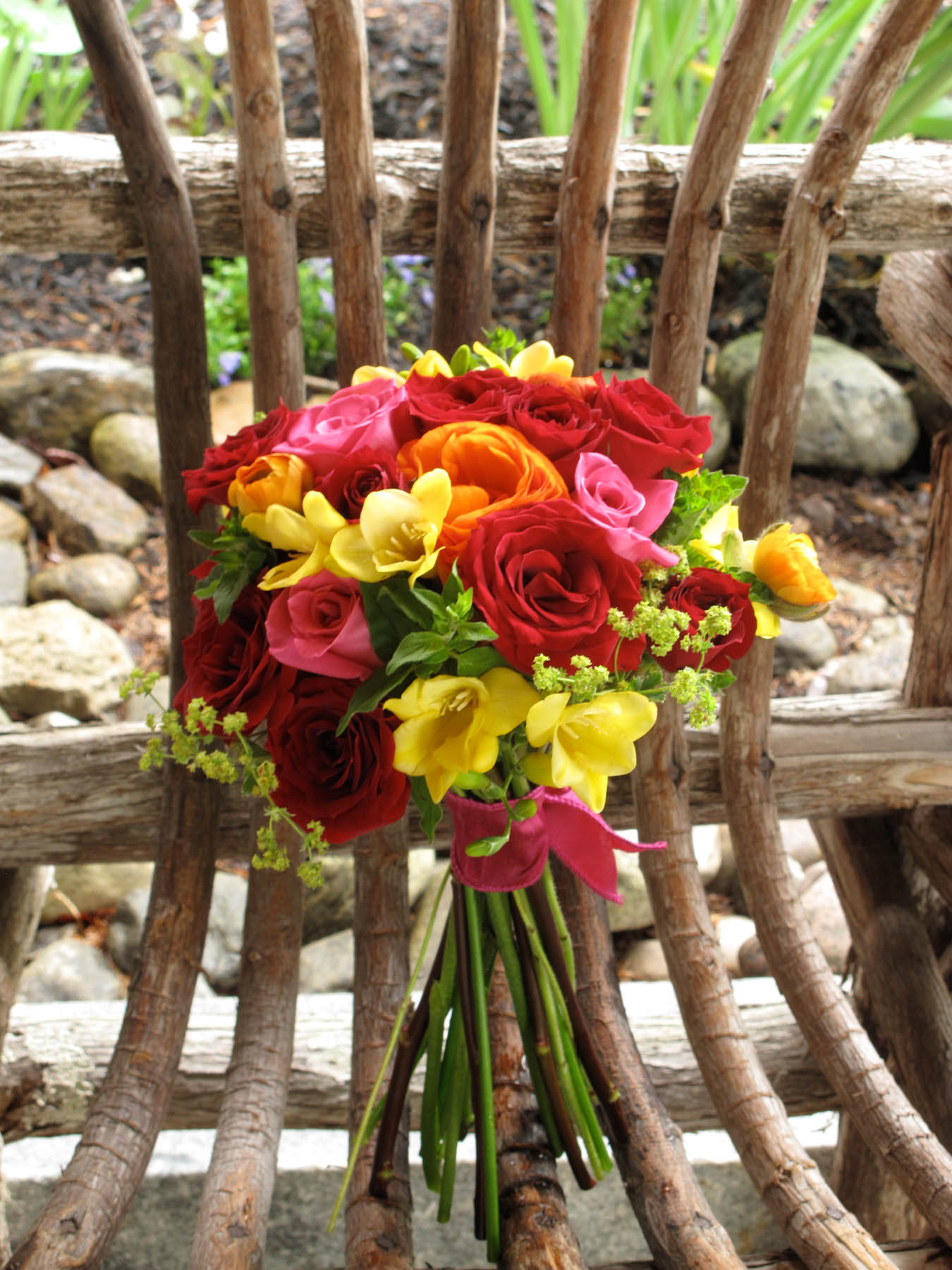 In the wonderful world of weddings we see trends and traditions that ebb and flow as they cycle in and out of style over the years.
Some traditions are timeless like lush white bouquets and champagne toasts and others come and go such as large head tables (which are totally IN right now!), floral crowns for brides (also totally IN!) and toss bouquets (which are mostly "out", but will probably be back again at some point!).
Whether you are looking to incorporate traditions or create your own remember this:
It's not as important to be "on trend" as it is to be true to yourselves as a couple and your personal taste.
Colorful flowers are bold and brilliant which may be perfect for you if you have a bubbly, outgoing personality, BUT if you picture a classically elegant white & pale pink wedding then GO FOR IT!  You've got to do what makes you happy.  And if you have a yearning for that burst of color then consider it the perfect choice for your rehearsal dinner.
Seating on the "Bride's side or Groom's side" are clearly null and void in same-sex weddings, but they are also trending out of favor in all weddings.  "Choose a seat, not a side" is the new trend and I hope it's here to stay.
Bringing the outdoors indoors with branches and trees is another trend that I'm sure will be considered tradition years from now.  From backyard tented affairs to elegant & grand ballrooms branches bring a natural element that provides both shape and structure.  With leaves or without branches are here to stay.
Charming aisles that are decorated with elaborate garlands or small mason jars tied to the chairs are very on trend making the promenade to the altar ever more beautiful.  Petals lining the aisle are a bit more in fashion than they were years ago so I'd consider that a tradition that's also on-trend.
Less is more is another trend that not only allows for a more intimate experience in the case of a smaller guest list, but also allows a couple to really go all out while hosting their family and friends who are clearly all VIP's. Even larger budget weddings are trending toward focusing on the important details (think food, flowers, photography) and trimming the fat elsewhere (like favors & after-parties).
And what is a wedding without cake?  Well, it's probably a wedding with an elaborate dessert table filled with glorious yumminess from eclairs to s'mores to petit fours.  Dessert buffets are definitely in style, but so are truly traditional cakes with monograms, sugar flowers & toppers. Some couples choose to do both….yes, you can have your cake & dessert table and eat them, too.
So when planning your wedding consider this: 
What is your favorite wedding trend?  What traditions do you think are essential?
As always I love to hear from you and don't forget to Share The Love with your friends!  Subscribe here to keep up with more tips and updates.